Back in May of 2007, a sea change swept the search engine world with Google's introduction of Universal Search. No longer were search results displayed only in text format; now, other types of search-relevant content including images, news, social, videos, blog posts and local listings would be blended together on the same search page.
Soon the other search engines came out with their own versions of Universal Search—referred to collectively as "blended search"—all in an effort to deliver a rich and relevant search experience to the user. But as happy as users are with an all-encompassing search that delivers a smorgasbord of search results all on one page, blended search presents a number of challenges for online marketers.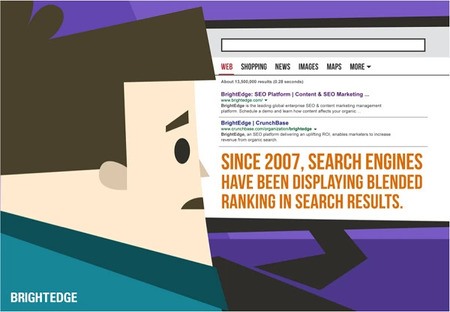 Before May 2007, back when search results pages were all about URLs neatly arranged in text format, marketers had a fairly clear picture of how sites were ranking. They also knew what areas they needed to focus on in order to boost rankings, such as providing fresh, engaging and relevant content, and building quality links.
With blended search, the ranking game changed
With the addition of images, video, local search results, etc., courtesy of blended search, the standard listings can drop on the results page. In order to counter this rankings drop, Web marketers must now focus on optimizing, not just text content, but also video, image, blog, local, news and other content as well.
While large businesses may already be employing a number of these content types, or at least have them at their disposal, a majority of businesses do not. Even so, industry experts caution that optimizing varied content, such as video, for search engines is difficult to do.
Another challenge of blended search for marketers is that visual images appearing on a search results page tend to break the page up, causing the searcher's eyes to wander and become distracted by non-relevant or competing engagement objects, because they stand out more.
In addition, more types of results in a search mean more information on the page. But more information does not always mean more relevant information for the user.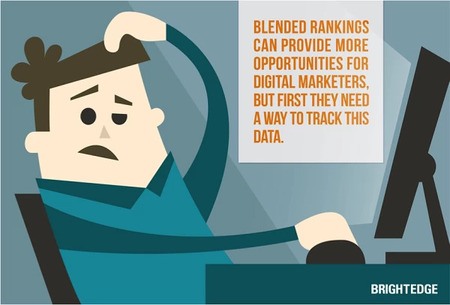 Of course, there are benefits to blended search for marketers, as each type of content presents new opportunities for high-profile exposure and market penetration that did not exist before May 2007.
In order to leverage blended search, businesses will need to create and optimize those media formats that both the search engines and customers will respond to. And those companies that can successfully optimize for the different media types stand to gain a competitive edge.
With all of these different types of content results, the challenge for digital marketers will be to determine which areas to focus on and which areas are ranking.
That's where blended rank, BrightEdge's proprietary technology, comes into play
As part of BrightEdge's suite of features in its SEO platform, the "Blended Rank" report gives online marketers powerful insights into keyword rankings through the ability to measure true SEO performance in the rankings for all search results—including text, image, video and social, and local results.
Armed with accurate SEO performance information, marketers can then set goals and devise targeted strategies to achieve higher blended rank among all search results. To carry out these strategies, organizations require "Big Data" processing power like BrightEdge's SEO platform to provide comprehensive insight into true blended rank in the search results.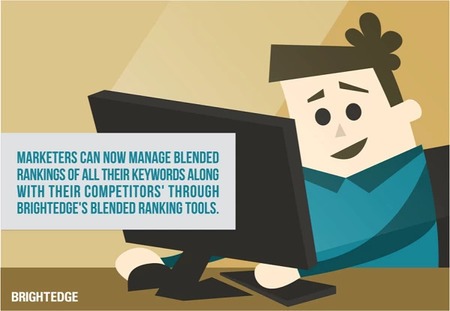 Finally, as the proliferation of mobile continues, Blended Rank allows marketers to measure true rank in mobile devices with respect to blended search results—image, video, social, and local results—to gain a more accurate picture of digital marketing performance.
The introduction of blended search back in 2007 presented digital marketers with a whole new set of challenges. Blended Rank is a powerful reporting feature that marketers can use to turn those challenges into golden opportunities.