If you're a brand that deals with a multinational presence, SEO can be a big undertaking technically and logistically. In this session from BrightEdge's Share 14 event last week, speakers from 3M, adidas, Adobe, Global Strategies and Intel shared common problems encountered within and solutions they've created for create a winning global search program. Dave Lloyd was up first (@davelloyd1) from of Adobe. He touched on search, content and localization at a global search scale. He says to first align to the customer journey. Look at keywords or topics that are mapped to various needs like consideration intent, learning intent or support intent.
The general content optimization plan, he says, is the following:
Identify keywords
Organize content
Optimize content
Create content
Localize content
Link to content
Launch process and QA of recommendations
For regional SEO coverage, Lloyd says all countries receive:
CMS improvements
XML and Href alternate language sitemaps
Technical SEO ad redirect mapping
Then there's Tier one countries, which Lloyd says is the recipient of product support through keywords, content, linking and QA. Tier 2 to Tier 4 countries receive on-page keyword optimization based on regional priorities. Next, Lloyd talked SEO localization flow, which consists of:
In-country keyword research
Each keyword mapped to preferred landing page
Content localized using keywords (content, video, images, links)
Reviewed by global search and SEO teams
Localized and optimized content goes live
In-country keyword research
Each keyword mapped to preferred landing page
Content localized using keywords like content, video, images, links
Here's a detailed SEO localization process that Lloyd shared with the audience: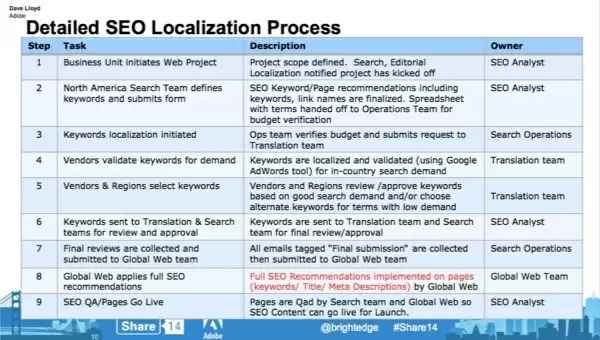 Some takeaways on strategy, partnership and quality assurance include: Strategy
Improve consistency of keyword optimization through local assignments by language not product
Ideal if local vendors work on all local collateral like documents, white papers, etc.
Always think about effort vs. impact
Partnership
Localization team coordinates vendors, regions, reviewers, the Adobe search team and the global search team
Invest in success through vendor and reviewer training on search and keywords in the region
Quality Assurance
The SEO team should drive QA Titles and Meta Descriptions
Have independent linguistic reviewers for targeted regions
Have the regional marketing managers sign off on content
SEO is not an afterthought, so you must plan ahead, respect deadlines and share info, Lloyd says. Laura-Ann Mitchell of Intel was next. She and Mellissa Jensen from Global Strategies (the agency for Intel) had a co-presentation. Mitchell starts by saying that unless you have a big budget of $5 million for SEO, it's hard to scale globally. You have to be creative. And, you have to create relevant content for every country. Jensen is up, and talks about the process for making it work. First, she says, take a step back, and understand how content gets created all over the world. Then, streamline the content workflow first.
Look at the step-by-step process, says Jensen. Make sure the content holds the same optimization when it gets translated into the geos, and inject local keyword research during the translation process.
Next, optimize the infrastructure:
Publish country content on ccTLDs
Customize the CMS
Optimize templates
Leverage XML Sitemaps with HREFLang tags
The three takeaways for global search for enterprise? Jensen and Mitchell say the following:
Optimize the infrastructure
Optimize the translation workflow
Train content managers and translators
Next up: Mattia Santin (@mattiasantin) from adidas Group [Side note: Check out Mattia's interview for the BrightEdge blog, here]. Mattia talks about how adidas grew SEO globally. When he first joined adidas, he needed to understand the strengths of the company, and the challenges in order to build an SEO program that scales. So, he says, benchmark the SEO situation. Understand any microsites, main sites, etc. Focus on the platform – the CMS first. The following represents how adidas Group sees SEO: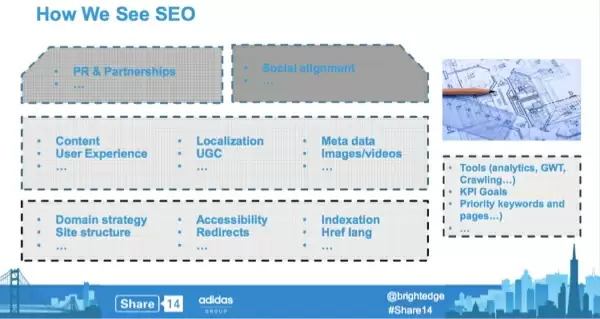 To make SEO work on a global search level, says Santin, look at the:
Organization
Process
Scale
Understand the global search structure, create a core team, then look at regional and local SEO teams, he says. The approach to SEO is a mix of campaign-based and evergreen strategies, says Santin. So campaigns would support brand authority, seasonal and business cases, and evergreen strategy would drive conversions, be ongoing and scale.
From the SEO efforts at adidas Group, SEO proved to be the No. 1 driver of traffic globally, and it saw a 329 percent lift in SEO sales year-over-year, Santin says.
Some of the lessons learned when implementing global search and SEO, says Santin, are the following:
Educate, evangelize and "sell" SEO internally
Build the right organization for your needs
Build a long-term SEO plan
Focus on priorities, scale, test and learn
Craig Berdie (@cberdie) from 3M joined the audience next. He talked about executive buy-in for global search and SEO. He says 3M has 6,000 websites served from a single server. Some of the challenges they faced were:
Consistencies between the countries, market variations, resources
Fundamental architectural decisions
Rapidly evolving product sets
Deep content locked in PDFs
Next, he goes into the tactics:
Establish and global, collaborative learning
Create a wiki for knowledge capture
Implement an enterprise SEO platform (they use BrightEdge)
License a variety of "ad hoc" tools as needed
For global SEO projects, train marketers and measure, measure, measure.
Take a seat at the table with technical teams, says Berdie, sit in on the meetings, understand their objectives and don't lose out on opportunities to make SEO a consideration. A tip, he says, for buy-in is to merge analytics and Salesforce to see how many leads and sales come from organic traffic, then figure out how much each click is worth in organic. The C-Suite wants to see this type of economic value. Berdie's takeaways include:
Finding global talent
Focusing on the numbers, and showing economic value
Understanding the IT side of the equation so you can get what you need
Focusing on the teams that are willing to change
Identifying SEO targets and create success stories
Understanding and use available data
And remembering that small victories generate momentum