At BrightEdge, we pride ourselves on the amazing community of talent that makes up our team. From Engineers to Account Executives to Client Service Managers, every individual plays a huge role in making our company — and our customers — successful.
Today, we're excited to kick-off a new blog series called "Why BrightEdge" to highlight some of our incredible team members. In this series we'll hear from employees across our eight offices, and learn what brought them to BrightEdge, and what keeps them excited about our mission.
Without further ado, let's find out why Senior Sales Manager Colin Kealey chose BrightEdge, what it's like to work here — and about his (pretty impressive) hidden talent.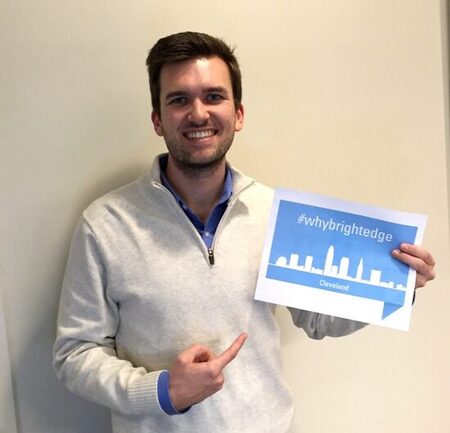 Office Location:
Cleveland, Ohio
Why did you choose to join the BrightEdge team?
I joined BrightEdge straight out of college. As a senior at UC Berkeley, I knew I wanted to stay in the Bay Area and experience life at a Silicon Valley tech company, but at the end of the day, there are hundreds of tech companies out there. What set BrightEdge apart for me was its strong position in the industry, impressive list of great VC investors, opportunity for rapid, performance-based promotion and most importantly, the chance to be surrounded by competitive and high-achieving peers.
What is your title, and how did you get to where you are?
I'm a Senior Sales Manager, on the Enterprise Business Representative (EBR) team and I recently opened up our office in Cleveland, Ohio. Nearly two and a half years ago, I started out as an Enterprise Business Rep myself in June 2013 in San Mateo, California. On the verge of earning promotion to Account Executive the following year, I had the opportunity to interview for an open position as the EBR Manager in San Mateo. Shortly thereafter, in September of 2014, I moved to Chicago to manage the EBR team.
What's your favorite thing about your job?
The people. I get to work with some of the smartest, most talented young sales professionals in the industry! And, I've been fortunate enough to have had the opportunity to work with EBRs across three of our offices. While it is incredibly fun to win every day with my team members, the most rewarding part for me is watching EBRs grow and develop. I've had the opportunity to witness EBRs go from making their very first phone call to getting promoted and eventually closing their first deal.
What are your interests outside of work?
I played trumpet in marching band in both high school and college, so I try to keep up with music as best I can. Aside from exploring everything that Cleveland has to offer, I enjoy traveling whenever I get a chance and when I'm not doing that, I tend to spend a decent amount of time watching The Office on Netflix.
What's a fun fact about yourself?
I have a black cat named Noche who only understands Spanish. Although I guess that's a fun fact about my cat.
What are you most passionate about?
It's a three-way tie: coffee, Guinness and my Cal Golden Bears.
What do you love about your coworkers?
The energy. I love how everyone I've worked with at BrightEdge brings a dynamic energy, and comes in every day determined to improve the company, the team, and themselves. Some of my best memories of the past several years come from the time I've spent with my coworkers in and out of the office, from go-kart racing, Cubs (and Giants — but mostly Cubs) games, Halloween parties, bocce ball bars, the President's Club in Maui, eating my first cheese curd, learning to play hockey, and having my first Great Lakes Christmas Ale.
Interested in learning how you can join the BrightEdge team? Check out our careers page for the latest opportunities.