Webinar: Why Share16? - August 17 at 10 AM PT / 1 PM ET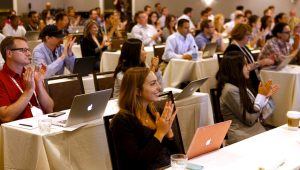 Share16, BrightEdge's 6th annual digital marketing conference, is only 11 weeks away and shaping up to be the best one yet. In an upcoming webinar, we will give you a sneak peek into the latest Share16 updates and why you need to attend and what's new this year.
You'll learn about the incredible value you get from being a part of this Forbes and Inc. Magazine top rated event - you won't want to miss out!
We will discuss how our approach is very different than other events in a number of ways, all leading to a better attendee experience. This includes the sessions, speakers, and networking activities at the conference.

High Quality Content
You will learn how we select session topics around the most pressing issues facing digital marketers, how we find marketers from top brands to speak at our conference, and how we work with them to deliver great presentations full of actionable takeaways. Our sessions are full of the highest concentration of search, content and digital brand marketers and industry thought-leaders who enjoy presenting high quality content uniquely crafted to ensure real value from Share16.
What's New?
We'll also discuss major upgrades we've made to make the event more fun and provided creative ways to help attendees interact with each other. Share16 attracts the best digital marketing teams from leading brands, most of whom want to meet and learn from others facing similar challenges. Our enhanced networking party will have delicious food and drinks, along with a number of fun game-like activities that will make it easier to meet new people and form lasting connections. We even added a special cable car bus tour of San Francisco with lunch served, for those taking the full day of BrightEdge University training on Monday. Share16 will have a new mobile event app - you'll be sure to leave Share16 feeling connected, inspired, and ready to tackle marketing challenges to elevate your performance.
This webinar will be full of exciting information about Share16 and how the conference will help you grow in your career and accelerate your business.
Register for the Share16 webinar!