Video has quickly emerged as a leading form of content with 87% of online marketers generating video content. This growth in production aligns with the increase in interest from consumers. About one third of online activity is spent watching video.
Using video SEO successfully, however, requires more careful thought than just adding numerous videos to your site.
Consider that over half of video content is consumed on mobile. Those on mobile devices, however, can be very particular about page load times. Google found that 53% of users will click off a mobile page it if takes more than 3 seconds to load.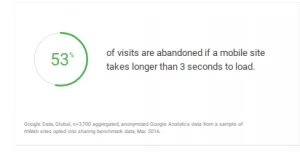 Videos can be a tremendous drain on load times, which means that poor use of videos can hurt the user experience. Slow load times will result in you losing users. It can also hurt your reputation with Google--who uses page load time as a ranking signal.
To use video properly, here is what you need to know about creating a site that is video SEO friendly and caters to the visual trends within the consumer base without compromising on-site and page quality.
Uses of video marketing
Brands have found that video marketing can fill many website roles. Here are just a few ways that you can use video SEO to engage users.
Create videos to show tips or help with your products and services. Video demonstrations that let people see your products in action can encourage them to make purchases. They can also help them get the most out of their purchase. You can create videos teaching people how to troubleshoot common problems, ensuring excellent customer service even after the purchase has been completed.
Videos can get people excited about upcoming products and services. Develop videos that let people know about upcoming release dates and show them why they should be excited about purchasing the new product or service.
Give consumers a behind-the-scenes look at the business. Let them see the office building, "meet" the employees that they commonly interact with through email or on the phone, or even get an interview with members of the C-suite, such as the CEO or a founder of the business.
Encourage people to get excited about upcoming events. For example, if your brand regularly hosts an industry conference, video can build enthusiasm for the upcoming dates. A similar method can be used if a member of your brand will speak at a particular conference or event, encourage people to come and check out the speaker by highlighting other speeches they have given.
Provide meaningful and practical non-brand content: A growing area of focus for video is content marketing. Generally this is any video content where you aren't necessarily talking about brand (directly) or any of the other areas mentioned above and instead concentrating on providing constructive material for your target audience, including how-tos, best practices, thought leadership, and industry trends or news.
Here's a good example of practical non-brand content in our own video SEO space from noted SEO thought leader Eric Enge and his Stone Temple Consulting group. In this video--hosted on YouTube but shared across the Stone Temple website and social profiles as well--Eric and a colleague discuss the ways in which SEOs and digital marketers should be looking at data.
Three main ways to include video SEO on your website
To properly employ video SEO, you need to first consider how you want to add the video to your site. You have 3 main options.
You can build the video into the structure of your website. Many sites will use this option if they want to use a background video, for example.
You can use YouTube to upload the video and then embed a copy into your website. This allows you to simultaneously promote your video on the enormous YouTube network, which can build brand reach and reputation while also bringing in more traffic to your site.
You can use a video host, such as Vimeo. This works well for videos that might not see as much success on YouTube, as these types of hosting platforms do generally give you more control over how the video appears on your site.
One of potential challenges of video SEO is the amount of resources required to execute on it. There are the logistical requirements like investing in physical equipment, editing software, etc. In addition to that is the creative requirements of developing ideas to execute on for a new channel. An effective way of mitigating the creative need for video SEO is to draw and adapt ideas from your other media.
For example, by creating shorter videos summarizing blog content or product content you're publishing on your site, you can leverage video across multiple marketing channels. Have a 1-minute explainer video about a blog post you just published? Embed it in the blog post itself as rich media, post it on your social accounts with a link back to the original post, and cross-publish on your YouTube account with in-video cards pointing to the post and/or other products or offers mentioned in the content.
Optimizing for video SEO
Step 1. Keep your video built directly into site as small as possible
Remember the importance of page load time. With video SEO you want to minimize the buffering time and help mobile users reduce the amount of data they have to use to view your site. To help with this, any videos you build directly into your site should be compressed and avoid having background videos on an endless loop.
Step 2. Consider mobile and auto-play videos
Let your users decide if they want the video to play. Customers generally respond negatively to attempts to force them to play or otherwise consume content. Therefore, if you feel you definitely want to have videos on autoplay, give people a pause button so they can have the option to stop it if they want to. Remember also that mobile devices will often disable autoplay, so consider changing out autoplay background videos or otherwise unnecessary videos with another type of content on mobile versions of the site.
Step 3. Consider where the video should be placed
Where the video lives on the page also impacts the user experience and video SEO. If the video will likely be the primary form of content, you likely want to put the video towards the top of the page. On the other hand, if the video will be secondary or complementary, it might live on the side or more towards the middle of the page.
Step 4. Make sure the video remains clear
The video should be clear for all users, regardless of their device. You can control this looking at the frame you select for the video. Most videos play clearly when you use a ratio of about 640 by 360 pixels.
Step 5. Make transcript or similar content for video SEO available
Search engines still cannot interpret content that lives in a video. You might also have some users who are not able to listen to your video, such as those in a quiet public place who do not want to use the volume. To accommodate these factors, you want to make sure you also include a transcript or otherwise incorporate your video content into text-based content somewhere on the page.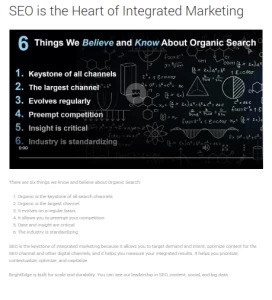 Even just including a brief summary of what the video contains can be helpful for users and video SEO alike. To maximize your video SEO, this also provides you with a good opportunity for relevant keywords.
Step 6. Put the video code in the footer
Any video code should be placed in the footer. You want your video to load last. This will allow your users to begin interacting with your site as quickly as possible and provide them with the optimal user experience. Placing the code in the footer allows the rest of the site to load first.
Step 7. Make sure your video is compatible with HTML5
HTML5 has replaced many video formats and now most sites at least offer HTML5 as an option, even if they provide the video primarily in another format. Given the direction that the web seems to be moving, we recommend that your videos should be compatible as well.
Video marketing KPIs
As with any other marketing channel, it's important for you to establish success metrics for your video efforts and determine how you're going to measure success across those metrics.
Where you host your video content plays a big role in how and where you do that tracking. YouTube is often a sensible first step since it offers a strong combination of built-in reporting and basic editing tools with a separate search ecosystem for organic discovery and building brand equity.
Once you've established where you're going to host your video content you can start tracking metrics based on the capabilities available to you. Some common video marketing KPIs are:
Top funnel: Landing page traffic, video iframe impressions, bounce rate, exit rate
Mid funnel: Video view time, number of Stops/Plays
Bottom funnel: CTR on video interstitials or View More options, conversions/sales from referral traffic from Video
Video can be a powerful means of interacting with your audience, creating a more personal experience for the user and helping them digest information more efficiently than reading long articles. Understanding how to set up your videos on your site, however, allows you to take advantage of video SEO while still maintaining your user experience.