Chances are, you've heard of the book, Freakonomics. This book was (and still is) wildly popular because it examined the way our world works in a completely new light. One of the masterminds behind Freakonomics is Stephen Dubner, renowned author, journalist, and media personality. We couldn't be more excited for Stephen to close out Share14 with the final keynote - now just a few weeks away.
At Share14, he'll talk about how to apply the ideas from his latest bestseller, Think Like a Freak (2014), to marketing.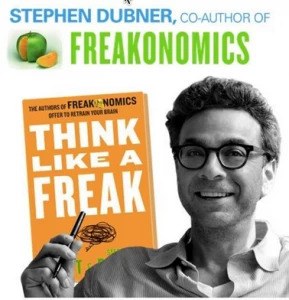 Prior to Share14, Jim, CEO of BrightEdge, had a chance to pick Stephen's brain on how marketers can "think like freaks" when it comes to their business strategies and creative processes.
Jim Yu (JY): How does "thinking like a freak" help people to solve problems in new ways?
Stephen Dubner (SD): Ah, you are asking me to summarize the whole book in the very first question! Okay, I'll try:
Learn to admit what you don't know;
Be willing to think like a child;
Put aside (temporarily) your moral compass;
Learn how to shift the framework of your various relationships;
Understand the power of incentives, including the possibility that they might backfire; and
Learn to appreciate the upside of quitting.
The digial revolution - measurement is key
JY: How can taking this approach specifically benefit marketers?
SD: The digital revolution has been a huge gift to marketing in that what was once only suspected can now be measured. You can't learn anything if you can't get good feedback; now, being able to measure all sorts of things allow us to find better solutions to all kinds of problems, including marketing.
JY: What are your top three tactics for changing up your thinking? Any methods or pieces of advice that you always turn to when you're in a rut?
Change is imperative
SD:
Spend time with people very much unlike you.
Consciously alter your routines/habits, even something as simple as ordering a meal you've never had before.
Physical exercise; it's remarkable how moving your lower muscles will help you move your highest muscle.
JY: Can you give me an example of how you've seen "thinking like a freak" benefit a company in terms of marketing or business strategy?
SD: There's a story we tell in the book about a huge multinational retailer that probably *should* have benefited from our thought process. They were spending tens of millions of dollars in a way that, in our view, wasn't necessarily fruitful. They didn't pay us much attention, however.
Content creation and storytelling
(JY): Do you have any advice for how marketers can be more creative in the storytelling and content creation process?
SD: There is much to be said about how to tell a good story, and why a good story is so resonant, and memorable. (I will likely discuss this at Share14.) One of the most powerful hidden strengths of storytelling is that we are all narcissists, and a good story allows each of us to put ourselves in the place of the characters in the story — assessing how they made their decisions, etc. Because of this, a lot of people — whether clients, customers, etc. — are able to learn a lot more via a story than they would by a set or rules or theories.
Stephen Dubner at Share14
JY: What are you most excited to share with marketers during your keynote at Share14?
SD: I love talking to marketers because they are generally an upbeat, creative, driven group of people whose work isn't so dissimilar from what I do. Plus they are fun to be around. See you soon!
About Share14
Share14 is the must attend event of the year for content, search and digital marketers. Hear what search and social titans from Google, Bing, Microsoft, Twitter and Facebook have to say on the future of content, search and social. Marketing leaders from brands such as Adobe, Macys, 3M, SAP, HP, Marriott and Hilton share insights, case studies, and best takeaways on how to win with content performance marketing. Please note that the event is due to hit 'sell out' status by next week. Register now to avoid disappointment. The full line up of speakers, and links to registration, can be viewed here. REGISTER NOW