At BrightEdge customer success is a key priority. This is why we have built the largest customer success team in the industry. We serve over 1000 customers, working with over 8500 brands across 4 continents.
As a product from the innovative leaders in the market, the BrightEdge S3 Platform is incredibly extensive and valuable for customers that enables them to as they transform online content into tangible business results.
To complement our award-winning platform our client services team provides hands-on support to ensure our customers are comfortable analyzing and interpreting the massive amounts of data that the BrightEdge platform processes for them.
My Role At BrightEdge – Customer Care & Partnerships
As a client services manager, I build business partnerships and provide product enablement to complete the story the data from the platform tells. As this Salesforce article highlights - "What is Good Customer Service" – one of the key factors that contribute to exceptional customer service is developing trust.
For me building trust comes from the fact that I genuinely care about my clients and always want to know what attracts and motivates them once they dive into the platform. Clients are extremely appreciative of the detail I provide into ensuring they gain the necessary platform skills. It is my job to actively listen and hear what is important to each person and company I work with.
Because customers recognize the attention I provide, they are confident in our partnership together.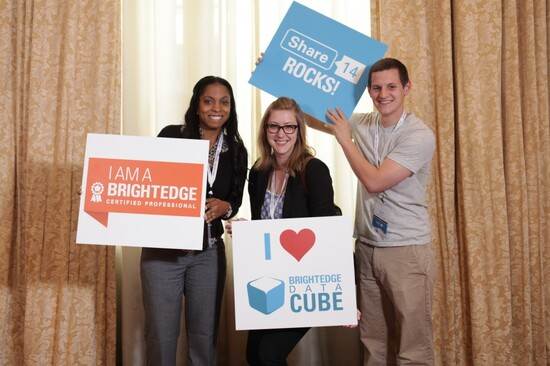 I take the time to analyze and create a customized approach for each individual client, so set them up for success. As Melanie Perkins notes in "3 Keys Providing Great Customer Service," I must give my clients a voice, so that their opinions can be heard through me. I am an advocate for their user experiences and what will benefit them in the long run. I consistently ask for their feedback, so I can better understand their needs, whether as a new or experienced user of our platform.
My success and satisfaction comes from helping my clients gain value from the platform, define and implement their plans and harvest the business results. This is why I think that BrightEdge clients renew at incredibly high rates.
Anything that is a considered progress or an achievement for my client translates into the same victory for me!
BrightEdge Customers and Business Impact
BrightEdge customers drive measurable business impact in partnership with the client services team via a number of key initiatives:
Ignite & On-Boarding Program - BrightEdge engagements are 'jump-started' with one-on-one on-boarding assistance, where customers learn about every aspect of the BrightEdge platform, identify goals, and work through a guided Ignite project.
Online Training & Certification - The BrightEdge Certification Program is a user-level certification covering the core BrightEdge platform functionality.
BrightEdge certification – This program validates a user's ability to leverage the full BrightEdge platform to deliver value from search and digital marketing.
On-going Partnerships — All customers, partners and members of the BrightEdge community also stay up to date on the latest changes in search and content marketing as well as key BrightEdge innovations through our product training webinars, networking initiatives, and our industry-leading, must-attend, event Share15. Come learn from our customers and your industry colleagues at Share 15. Space is limited, so I would recommend registering now!
I look forward to seeing you there and supporting your organic marketing success.