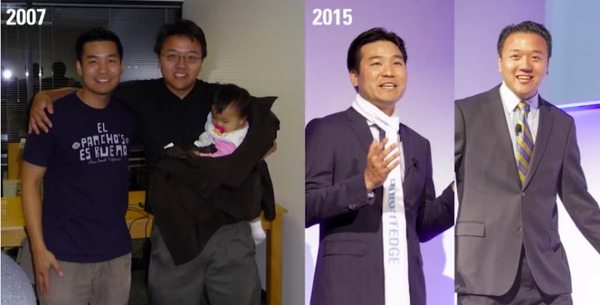 When I think of where BrightEdge is today, it's hard to believe that only eight years ago we were a bootstrapped startup operating out of my kitchen. Believe it or not, the picture above was taken right after my co-founder Lemuel moved into the 900-square-foot condo I shared with my wife and newborn daughter to found BrightEdge. At that time, the iPad was still two years away, the top social network was MySpace, and the prevailing marketing technology only involved ad optimization.
But Lem and I had a different idea about where the market was heading. We realized that in order to understand performance and create winning content, brands needed to understand the full context. This required a massive web-wide index, which is why with servers stacked under my kitchen table we built the early version of the Data Cube. From humble beginnings, to where we are today we've come a long way. Now spending millions of dollars on servers and technology, our vision for content performance has come to fruition.
As a community, leaders across every industry are investing in content performance. In fact, brands are increasingly investing in digital content to the tune of $135 billion. But, just because a company is acting on an opportunity doesn't mean they're taking full advantage of it — according to BrightEdge research, 59% of content marketers say that their budgets aren't aligned with performance. To truly rise above the noise, content marketers must run their programs by the numbers. That's why, at Share15 last month, we were excited to preview innovative new technology to take content performance marketing to the next level.
With Content Atlas and Intelligent Experiences you can run content marketing by the numbers. These new technologies work in tandem to create real-time visibility into your content marketing program, allowing you to easily communicate the impact on goals and build a data-driven playbook to optimize content performance and ensure maximum impact.
Content Atlas
Content Atlas enables you to run content marketing by the numbers and automatically map content performance across the four key phases of the customer journey – awareness, consideration, purchase and loyalty – and compare it against the competition. Content Atlas displays all of this rich information in a dashboard, allowing you to visualize the landscape surrounding your content strategy.
More importantly, it can tell you why any discrepancies between your content and that of your competitors might exist.
These insights become all the more powerful when paired with recommendations. That's why Content Playbook within Content Atlas assigns prescriptive steps to help close gaps and optimize existing content and further increase your lead in success areas, all while telling you exactly how much your opportunities are worth. This in turn helps you validate investment in content that generates the greatest return and scale back or improve those that yield lower returns.
Intelligent Experiences
Intelligent Experiences works in conjunction with Content Atlas — it takes the analysis and recommendations of Content Atlas and builds out a guided workflow around that insight. In other words, if Content Atlas is the who, what, where, when, and why, Intelligent Experiences is the how.
Intelligent Experiences empowers you to create more engaging, curated experiences for your audiences. This begins by highlighting opportunity areas and referencing successful competitors' content in order to automatically generate an optimized customer experience. What's more, it allows marketers to publish directly from the platform.
And, since each channel is so unique, Intelligent Experiences optimizes content for each one, allowing existing, underperforming content to be automatically optimized for maximum performance.
Flexible Integration
We know that many companies have invested in digital content systems, including CMS or an eCommerce platform. As such, our new technology is compatible with several existing systems, like Adobe Experience Manager and hybris, adding intelligence into content performance and customer experience.
Members of our community are having great success creating optimized content at scale. Felipe Carreras Director of E-Commerce at Best Western International joined me onstage to discuss the success he's had leveraging the BrightEdge platform with Adobe Experience Manager. Best Western was able to create over 16,000 pages of unique content for 2,056 individual property websites in three months with a team of five individuals.
When Lem and I founded BrightEdge, we were excited about the future of marketing, and the opportunity to create technology to transform content performance. In partnership with the community we're thrilled to see how far content performance marketing has come.
Customer success has been our top value and driver of innovation since the beginning days of BrightEdge, and we couldn't have done it without you. We look forward to our ongoing partnership as we continue to innovate, lead, and elevate performance — together.