The Spring Tour of the Leading SEO Conference Is a Wrap!
On April 19th, BrightEdge concluded the first leg of its Share Global Insights Tour in London. Share, a series of one-day SEO conferences for digital marketers, by digital marketers, kicked off the 2018 tour with stops in New York in March and London in April and will reconvene in San Francisco this Fall. This year's tour saw even greater attendance than 2017, a sign that the BrightEdge community is full of momentum and collaboration—not to mention a huge roster of impressive thought leaders in the industry from brands including: L'Oréal, IBM, Staples, Thomson Reuters, BlackRock, Comcast, and ShopDirect! Read more about the first half of the tour The theme of #Share18 is Search, Content, and the Customer Experience, and content explored understanding consumer intent and how agile organizations are using AI and automation to bring together search and content marketing to deliver a personalized digital experiences. At BrightEdge, we believe that performance starts with the customer journey and understanding consumer intent—which is possible through search and practical insights. The Share Global Insights Tour aimed to give digital marketers actionable takeaways through the daily efforts of our customers. Great examples included: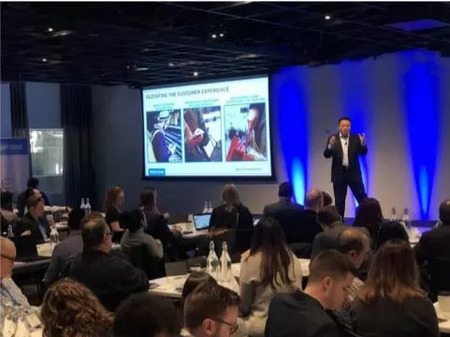 A huge theme from the spring tour stops surrounded the ever-expanding topic of AI and how to leverage machine learning in today's digital marketing arena. Paul Roetzer of AI Institute, and Collin Colburn of Forrester joined panels to share the latest trends surrounding machine learning and how digital marketers should be thinking about establishing AI processes internally. Ellen Mamedov, IBM and Michel Kant, Staples encouraged the BrightEdge community to kickoff AI projects on a small scale and begin measuring results, as trial and error is a unavoidable in becoming successful at leveraging machine learning insights.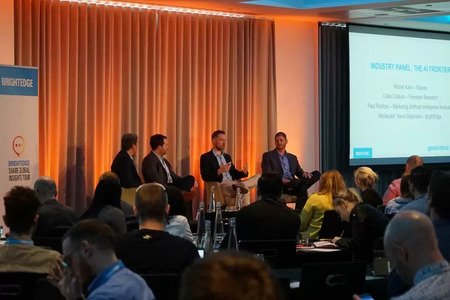 BrightEdge Community All Stars: BrightEdge Announced 2017 Awards at Share NY and London Recognizing Excellence in SEO and Content
BrightEdge announced and presented the BrightEdge 2017 SEO and Content Marketing Awards at Share NY and London. Response to the call for nominations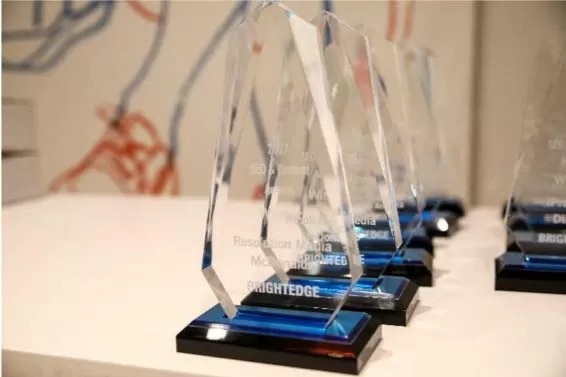 was tremendous with more than 200 submissions and campaign summaries submitted. Marketers from top-tier brands across industries had remarkable achievements in 2017, and these awards recognized their results, community leadership, and business acumen. Read more about the London Share event and awards on the ClickThrough blog post published following Share London.
Here is a partial list of award winners from NY and London:
SEO Program of the Year in North America: L'Oréal (New York)
Agency Campaigns: iProspect and Resolution Media (New York)
Innovator of the Year: Michel Kant, Staples EMEA (London)
Community Member of the Year: Jennifer Gac, ShopDirect (London)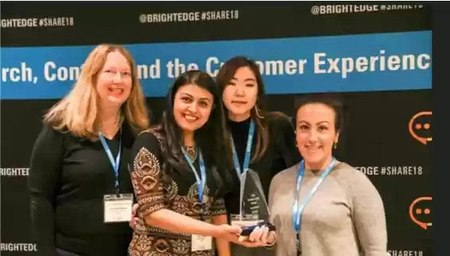 We would like to give a big "thank you" to the more than 40 speakers who led breakout sessions, spoke on panels, shared (pun intended) their valuable insights onstage in the spring of 2018. Check out the agendas and full lists of speakers: New York, London.
What's Next? The Final Leg of Share Global Insights Tour in San Francisco
BrightEdge is excited to announce that the Share Global Insights Tour will complete its Fall tour in San Francisco on October. Our flagship SEO conference, Share San Francisco, will take place October 10, 2018, at the Westin St. Francis. This 1.5 day event will be packed with industry leading panels, persona-based breakout sessions, dynamic keynotes, and formal networking opportunities.
Make sure to check out our Share San Francisco event page below and send questions to events@brightedge.com. San Francisco: October 9-10
Need Inspiration?
We are thrilled to announce our keynote speaker for Share, Derek Redmond, and his inspiring story of grit and determination. Derek's semi-final at the Barcelona Olympics will be remembered as an eternally inspirational moment, as his father headed onto the track to help him cross the finishing line after a serious injury mid race. Lauded as NBC's third top Olympic moment ever, and mentioned in a public speech by Barack Obama, Derek Redmond is a top global motivational speaker. Dogged by serious injury from the start of his career, Derek's remarkable achievements are internationally lauded. "Derek Redmond bravely making it through with little help, moments of euphoria after years of hard work. Moments when the human spirit triumphs over injury that should have been impossible to overcome." -President Barack Obama
Reasons to Attend Share San Francisco
We want you to get the most out of your Share experience so we've taken your feedback from 2017 and optimized the 2018 roadshow to make it even better. Here's what you can expect:
Innovative Break Out Tracks: Whether your focus is in digital, content, or strictly SEO, Share will have two tracks specifically designed for you. Get the most out of your day with BrightEdge by attending sessions specifically tailored to your needs.
Training and Certification: Would you like to BrightEdge certify or certify someone on your team? We will be offering in-person training on October 9th for just $300. Participants will be the first ones to receive training on the latest product functionality and to earn the BrightEdge Update Certification 2018.
Innovation: Join industry experts who will help bring artificial intelligence to your fingertips. We'll cut through the hype surrounding AI and provide real, practical advice on how you can become an AI-First marketer.
2018 Global Award Ceremony: BrightEdge will recognize outstanding achievement in the community at the closing ceremony of Share SF event. Leverage the knowledge and success of your digital marketing community.
Community Networking: Learning happens both on and off the stage (ahem, and at happy hour) and this year Share will have tailored networking so you can connect with peers in your distinct role and share your successes.
Register Now!
Calling all early birds! Register for Share SF before September 14th to take advantage of early bird pricing for just $499 ($699 regular price) Learn more about Share San Francisco here: San Francisco.
Submit Your Award Nomination!
The 2018 call for BrightEdge Edgie Awards nominations is open now. You can nominate yourself, a colleague, or a customer in 7 different categories through August 2018. Winners will be announced at Share SF.
Want to Speak at Share SF?
We here at BrightEdge can't wait to bring you more innovative and creative ideas at Share SF this October. If you are interested in becoming a speaker at Share, please submit your topic and interest on our Share page. This year, the BrightEdge Community has become an impactful network that shares insights, provides platform best practices, and, most of all, elevates the role of SEOs and digital marketers across the industry. We look forward to building on our community success in 2018 in San Francisco! Whether you are running a global SEO team or a powerhouse team of one, Share has something for you. See you all there!