SEO optimization and search engine marketing are two terms that both fall under the heading of search marketing. They are two branches of the same tree in that they each work to engage users online and entice them to visit particular websites. SEM, however, focuses on paid advertising efforts and SEO optimization is organic.
Since there is considerable overlap in the goals between these two parts of search marketing, the two methods should be used to amplify each other. When used properly, they can each help to maximize the visibility they provide for the brand.
An estimated 85 percent of retailers say that search marketing, including both SEO and SEM, is the most efficient customer acquisition tactic. Many brands are noticing the value and importance of using these online methods to engage with users. Overall search spend has increased by 9 percent year over year, and about 50 percent of B2B and B2C brands plan to increase their budget for content marketing in the coming year.
The increased saturation in the online world means that for brands to compete, they need to find ways to maximize their usage of these strategies together. They want to leverage them together to see the true power of search marketing.
Recent SERP changes
It is important to take note of the recent changes Google has made to the SERP. A few months ago, marketers discovered that Google had eliminated the ads that once appeared along the right-hand side of the SERP. At the same time, they increased the number of ads above the organic results. Some queries now show as many as 4 ads before the start of the organic results, which then pushes the organic listings further down, in some cases nearly below the fold.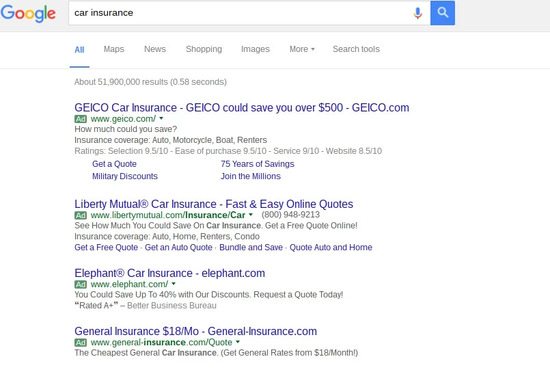 These changes mean that the top positions on organic are even more important, since they have the best chance of appearing above the fold. It also means that ads should be viewed as an even more essential part of an effective search marketing strategy. They provide an additional means of gaining attention on important queries.
How SEM and SEO optimization work together
Brands that leverage these two together have potential to drastically impact their brand growth.
The relationship between search engine marketing and SEO optimization has been a topic of considerable conversation over the years. Brands have wondered how having a paid ad and an organic listing for the same query impacted their results. Interestingly, Google decided to study this phenomenon and found that getting rid of paid ads would result in an 89 percent drop in clicks.
In other words, Google found that having an organic listing and a paid advertisement for the same query would help make the brand more visible and increase the chances of someone clicking on their organic listing. The impact is even more dramatic for brands that had organic results further down the list, but having organic ads even helps brands that have sites listed in the top organic positions. Brands can use this information to build a search marketing strategy that makes their site more visible for users.
How to succeed with SEO optimization and SEM
To properly leverage SEO optimization and search engine marketing together, brands need to develop a cross-channel marketing approach. Those who work with paid search and those who focus on SEO and content production must be able to work together to form a coherent web marketing strategy that builds up both sectors. As already explored, when they are able to work together, they can increase their overall success rate.
Step 1. Buyer personas and keyword research
Brands should begin by making sure that they have a thorough understanding of their key target personas. This includes their audience's pain points, motivations, budgets, and position within their organization. The more information you have about your buyer personas, the easier it will be to appropriately target them and create web marketing content and advertisements that address their needs and engage them.
Follow up the outline of the buyer personas with keyword research. Use platforms, like the BrightEdge Data Cube, to begin developing a list of keywords that will interest your audience. Look at competition and search rates to get a better idea of how popular a particular keyword is and how hard it will be to get a strong ranking for it. Look at the top ten ranking pages for the keyword and see how well those pages fit with your intended audience. When you do find a good fit, seek ways that you can improve upon what is already created so that you can outrank the competition.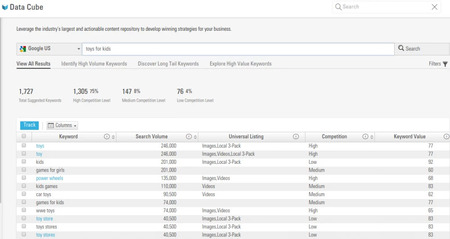 Step 2. Optimize your content for the keywords
Once you have your list of keywords that you want to target for your PPC and SEO common project, you then need to ensure that your target content is SEO optimized and prepared. When optimizing your content, make sure that you include the keyword naturally a few times in your content, but do not keyword stuff. Use some semantically related keywords throughout the content as well to show your depth on the subject. Develop a title, headings, a meta description, and alt tags that similarly include the main keyword naturally. Link your content to related pages within your website to demonstrate that this is a topic you are familiar with and that you have explored multiple times on your website.
Step 3. Create ads that add value for the user
Most marketers now understand that the goal of SEO optimization is not to keyword stuff the content or develop thin material that serves little purpose besides checking off a keyword list. Instead, brands aim to create material that adds value for the user. You should do the same with your search engine marketing. If you are creating ads for local searches, for example, remember that most people want to find phone numbers, addresses, or information about businesses carrying certain products. Reflect these desires in your ads the same way Google tries to answer them with the local 3-pack. Make sure your ad provides value for the user and does not just look like a piece of spam.

Step 4. Measure results
Once you have run your joint search engine marketing and SEO optimization campaign, you now need to measure your results including bounce rate. This will tell you how well your efforts performed. You want to look at a few main metrics, such as:
Your organic content rank and if the material drew clicks when the PPC ad was placed and when it was not

How well your PPC ad drew traffic

The traffic from each segment and how well the visitors engaged with the site and moved through the sales funnel.
Search marketing, including both SEO optimization and search engine marketing, is a critical component of engaging with online customers and drawing them into your brand. Understanding how to use these two functions together, however, can help brands digitally mature and see greater ROI from their digital marketing efforts.