An SEO checker, a tool that helps you analyze your website to see how well you are optimizing your content and remaining compliant with the best practices for the major search engines, is a valuable instrument in your digital strategy. It is important to note, however, that a checker alone is not enough to maximize your prevalence in the search engines.
The importance of the digital world in commerce continues to grow. Ecommerce grew by nearly 15% in 2015. In the B2B world, 94% of people say that they perform research online before they make a purchase.
Given that more than half of the traffic to your website originates with organic traffic, there is no doubt that your SEO efforts and your visibility on the SERPs will directly impact the bottom line for your organization.
The better you understand how to maximize your usage of the SEO checker and how to leverage a platform that will take your SEO efforts further, the more return you will begin to see from your optimization efforts.
Get A Concise SEO Evaluation of Your Site
What does an SEO checker do?
Running an SEO check will help you take a closer look at how your site is currently performing. Most SEO checkers will look at factors such as:
The usability of your site
Your site speed
Metadata
Your alt tags
Your social media interactions
Internal and external links
An SEO optimizing platform will help you evaluate how well your site adheres to SEO best practices. It will alert you to potential problems before they become an issue with your rankings and impact your site traffic.
Although this information is helpful, it does fall short in its ability to help you build a strong site that will maximize your appearance in search.
An SEO checker needs to be paired with suggestions
While it can be useful to have the insight about the shortcomings of your website, the information from an SEO check can only help you so much with maximizing the optimization of your brand. You need guidelines that will also help you improve your site.
Not only do you want to know where you have made errors, but also where you may be overlooking opportunities to take your website results further. For example, the BrightEdge platform can offer insight and suggestions about backlinks.
Rather than just reporting on the sites that link to your page, you can also access recommendations that will offer suggestions about websites that might suitable for pursuing additional backlinks.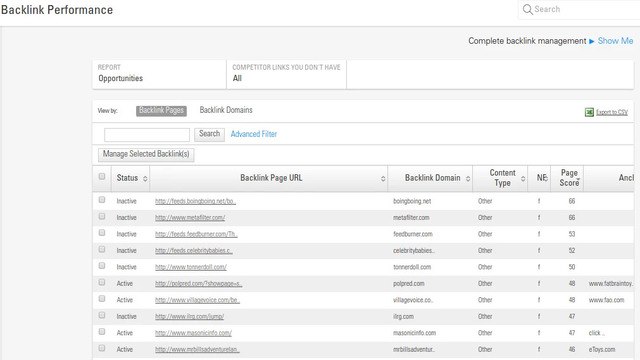 Similarly, you can analyze the pages that rank for particular keywords and receive insight that will let you see where you have the ability to outrank competitors. You will receive not only the SEO check, but also the suggestions about where keywords should be used while also looking at the top-ranking pages for that topic, which will help you understand what the search engines and users want to see.
You need to know what your competitors are doing
The BrightEdge platform will also help you look at your site next to competitors so that you can see keywords that they are ranking for that you are not, where they are having the most success, and where you need to improve.
It is important to remember that in the world of SEO, you are not only trying to rank well within the search engines, you are also trying outrank all of these competitors. That is how you can attract the attention your site needs.
When you have a full analytical platform, you will be able to gain valuable insights into the factors that are helping your competitors achieve their success, allowing you to find holes that will help you outrank them and improve your own reach and ROI. With BrightEdge you will be able to see:
Keyword gaps where competitors are ranking for particular terms that you are lacking
The high-ranking keywords and longtail keywords competing domains use
Their content performance in universal results and specialized results such as Quick Answers and the Local 3-Pack
Their content performance over time next to yours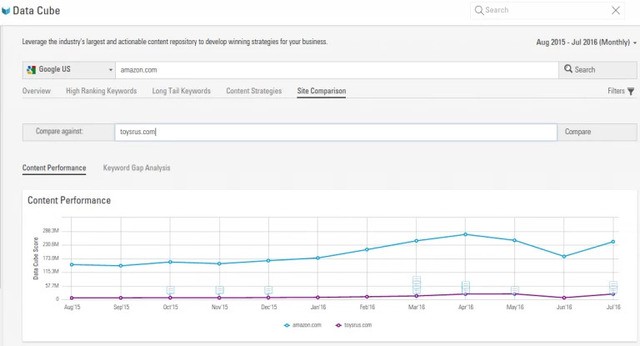 BrightEdge Site Comparison will help you find gaps and opportunities.
This insight into what your competitors are doing and what helps them succeed can help you adjust your own strategies and better capture a larger portion of the share of voice.
You need to know how your SEO efforts impact the bottom line
While gains in SEO can be wonderful to see on your charts, in the end, the value of using an SEO optimizer is revenue. You want to build your site so that more people are attracted to your brand and thus convert.
Ranking highly on the SERPs will only help you if you attract the right audience. Looking at your site only through the eyes of a checker will tell you if you are optimizing your site, but not how well those optimization efforts attract people who are interested in your business.
Working with a more complete platform, like BrightEdge, will allow you to analyze the impact your optimization process has directly on your revenue. You can group pages or keywords together and gauge their impact on conversions.

Page Reporting on BrightEdge helps you gauge your impact on conversions and revenue.
You can also track different types of conversions over time to see the impact of various campaigns on the success of your website. You can even see the impact that your SEO has on different devices by comparing your progress in mobile SEO versus desktop. This can help you pinpoint the needs of your different audiences so that you are better able to tap into the growth of mobile internet use.
BrightEdge StoryBuilder makes it easy to see progress by device.
An SEO checker can help you build a successful website, but it can only take you so far. For you to maximize the potential of your site, you need to combine a checker with a complete platform that will provide you with the insights you need to help your site stand out against the competition.