Recognized by Forbes and Inc.com as a must-attend conference – next week on October 24th -26th - Share16 plays host to a unique mixture of leading brands, search and content marketing practitioners and digital marketing influencers. Featuring over 70+ speakers from leading brands and technology titans, such as Google, YouTube, Microsoft, Facebook, Oracle, Salesforce, and Adobe…
Share16 will be the ONLY place to be in San Francisco.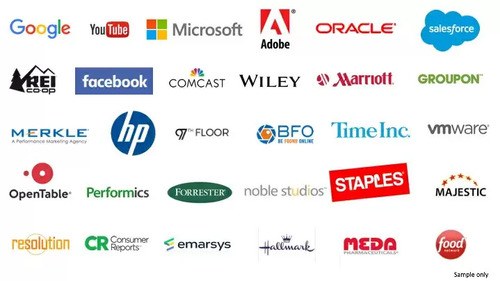 This year, my 5th year as the Content and Speaker Chair, Share16 is also bringing together the highest concentration of brand marketers, thought-leaders, and technology executives in this industry and is the only event in the industry that focuses 100 percent on peer-to-peer learning and collaboration.
At Share16 we are delighted to host leading brand speakers from; REI, Marriott, Wiley, GroupOn, PennWell, Citrix, Centrify, VMWare, TimeInc, The Food Network, Forrester, OpenTable, Comcast, HP, Hallmark, Staples, The Denver Post and many, many more!
Sharing Share Insights – Speaker Snippets
Share's program content is developed in conjunction with our partners, client brands, and industry thought-leaders. The focus is not only delivering inspiring content, but also ensuring that every session is jam-packed with information, case studies, best practice guidance, and actionable takeaways for peers. This year Share16 will have the following tracks:
Search Advancement – The latest from the top performers in the industry, including some advanced sessions for those who are ready to go deep.
Content Optimization and Digital Integration – How experienced marketers from learning companies are creating, optimizing, marketing, measuring, scaling, and collaborating across their organizations.
Business and Career Elevation – An exciting new track that focuses on how to grow digital marketing and its impact across your company and how you can use that to advance your career.
Below are just a few 'content snippets' from some of the speakers coming your way at Share16. Note: final session titles subject to change at the discretion of the speaker
Industry Keynotes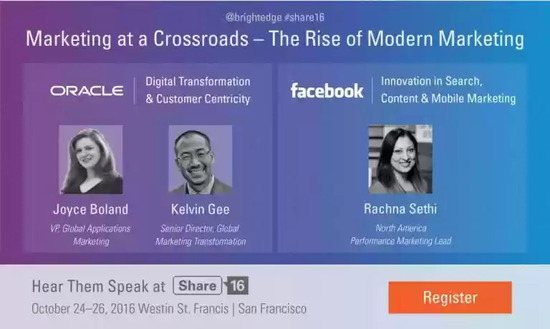 Oracle, Joyce Boland, VP, Global Applications Marketing Oracle, Kelvin Gee, Senior Director, Global Marketing Transformation How Oracle has transformed from product-centric to customer-centric org Facebook, Rachna Sethi, North America Performance Marketing Lead How Facebook is making the world more open and connected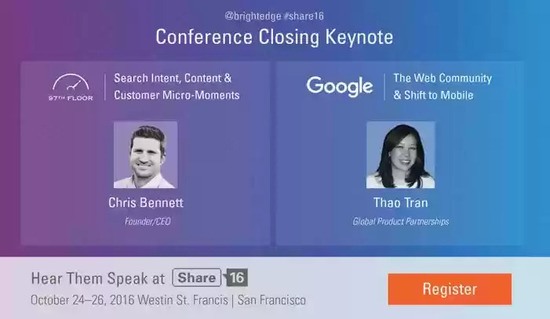 97th Floor, Chris Bennett, CEO and Founder Search Intent, Content and Micro-Moments Google, Thao Tran, Global Product Partnerships Lead The future of the mobile web – AMP and the Progressive Web
Search Advancement Track
Content Optimization and Digital Integration Track
Business and Career Elevation Track