Recognized by Forbes and Inc.com as a must-attend conference – next week on October 24th -26th - Share16 plays host to a unique mixture of leading brands, search and content marketing practitioners and digital marketing influencers. Featuring over 70+ speakers from leading brands and technology titans, such as Google, YouTube, Microsoft, Facebook, Oracle, Salesforce, and Adobe…
Share16 will be the ONLY place to be in San Francisco.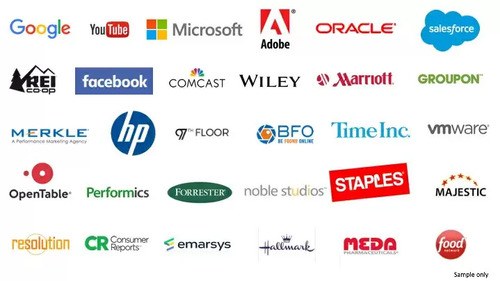 This year, my 5th year as the Content and Speaker Chair, Share16 is also bringing together the highest concentration of brand marketers, thought-leaders, and technology executives in this industry and is the only event in the industry that focuses 100 percent on peer-to-peer learning and collaboration.
At Share16 we are delighted to host leading brand speakers from; REI, Marriott, Wiley, GroupOn, PennWell, Citrix, Centrify, VMWare, TimeInc, The Food Network, Forrester, OpenTable, Comcast, HP, Hallmark, Staples, The Denver Post and many, many more!
Sharing Share Insights – Speaker Snippets
Share's program content is developed in conjunction with our partners, client brands, and industry thought-leaders. The focus is not only delivering inspiring content, but also ensuring that every session is jam-packed with information, case studies, best practice guidance, and actionable takeaways for peers. This year Share16 will have the following tracks:
Search Advancement – The latest from the top performers in the industry, including some advanced sessions for those who are ready to go deep.
Content Optimization and Digital Integration – How experienced marketers from learning companies are creating, optimizing, marketing, measuring, scaling, and collaborating across their organizations.
Business and Career Elevation – An exciting new track that focuses on how to grow digital marketing and its impact across your company and how you can use that to advance your career.
Below are just a few 'content snippets' from some of the speakers coming your way at Share16. Note: final session titles subject to change at the discretion of the speaker
Industry Keynotes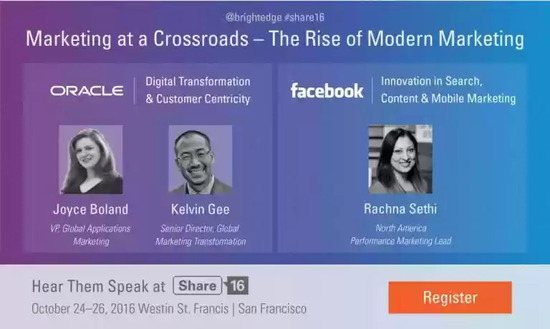 Oracle, Joyce Boland, VP, Global Applications Marketing Oracle, Kelvin Gee, Senior Director, Global Marketing Transformation How Oracle has transformed from product-centric to customer-centric org Facebook, Rachna Sethi, North America Performance Marketing Lead How Facebook is making the world more open and connected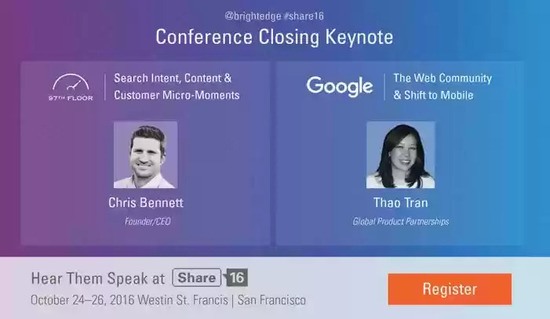 97th Floor, Chris Bennett, CEO and Founder Search Intent, Content and Micro-Moments Google, Thao Tran, Global Product Partnerships Lead The future of the mobile web – AMP and the Progressive Web
Search Advancement Track
Algorithmic change and response: SERP positioning and SEM alignment Exclusive, Nik Rajpal, VP of Marketing Sciences 15 Ways to Lose Your SEO Rankings Wellbiz Brands, Danielle Yuthas, Sr. Digital Media & Marketing Specialist The changing SERP - Making the most of 2016 and preparing for 2017 Performics, Ryan Sullivan, SVP, Performance Services The Future of Optimization, Voice and Machine Learning Learn more about this session here
Advanced Mobile Optimization: Accelerated Mobile Performance Google, Maile Ohye, Developer Programs Tech Lead Google and Mobile SEO - How things are changing Time Inc, Binti Pawa, Head of SEO, Director Food, Lifestyle & Luxury (FLL) Accelerated Mobile Pages – Are you AMPlified? Food Network, Jason Stevens, SEO Director Cooking with AMP Learn more about this session here
Data Sources and Data Sets: Mastering Analytics and Integrations Google, Adam Singer, Analytics Advocate Taking Your Analytics Practice to The Next Level – What's new with GA Marriott Digital, Freddie Blicher, Senior Manager, Corporate SEO How to Think Like an Analyst, Measuring Page Performance Majestic, Dixon Jones, Marketing Director How to Evaluate the Whole Web – A View from Space Learn more about this session here
Technical Site Configuration: SEO Friendly Design, Build & Infrastructure Wiley, Austin Kane, Sr. Manager of Search Marketing Don't Underestimate the Power of Technical SEO The Pampered Chef, Jacqueline Urick, Head of SEO (SEO Manager) How to Win Devs and Influence Sprints SEORadar, Mark Munroe, Founder and CEO Protecting your SEO from Technical Mishaps Learn more about this session here
Global, Local and Mobile Search: SEO, PPC and Social Synergy Forrester Research, Collin Colburn, Researcher Marketing in the Post-Digital World Noble Studios, Chad Hallert, Director of Digital Strategy The Power of an Integrated Search Strategy Learn more about this session here
Insights from In-house experts: Technical Tactics, Conversion Strategies Salesforce, Alex Bullo, Digital Marketing Mgr. SEO Audience & Acquisition Comcast, Sean Kainec, Director of SEO Adobe, Kirill Kronrod, Manager, Global SEO & Search Analytics Learn more about this session here
Competitive Benchmarking and Building Your Ultimate CMO Dashboard Overdrive Interactive, Harry Gold, CEO BrightEdge, Brian Moore, Director, Client Services Learn more about this session here
Content Optimization and Digital Integration Track
Intelligent Content for the Customer Journey: Engagement & Experiences Microsoft, Alex Volk, Director of Traffic and Content Strategy Leveraging External Signals to Drive Content and SEO Effectiveness YouTube, Jonathan Schmucler, Global Expert, Branded Content Strategy Creating for Impact on YouTube Learn more about this session here.
The Content Management Cycle: Optimizing Content for Scale & Efficiency BFO, Steve Krull, CEO Sustainable Content Marketing Cycles Consumer Reports, Steven Saltzman, Managing Editor Building Content with a Plan: Content with a Purpose Groupon, David Langrock, Sr. Director, Marketing Services How Content & Ecommerce Work Together Learn more about this session here.
Content Metrics That Matter: Traffic, Engagement, Conversion & Revenue PennWell, Eric Baudais, SEO Campaign Analyst Gaining Insights, Building Metrics from Combined Data Citrix Systems, Jaimee Stauffer, SEO and Content Marketing Strategist From Insight to Action: Using data to drive results Resolution Media, Dan Toplitt, Associate Director, SEO Cross-Channel Content Metrics that Matter Learn more about this session here.
The Search, Social and Content Marketing Trifecta: Digital Branding & PR Search Laboratory, Chris Attewell, SVP Americas From SEO to Online PR – how we evolved our organization Croud, Clark Boyd, VP, Strategy Form and Factor - The Path to Meaningful Content Measurement Centrify, Rachel Freeman, Director of Integrated Marketing, Digital The Influence of PR on SEO: An In-house perspective Learn more about this session here.
Managing Multiple Digital Channels: Finding the Perfect Mix Emarsys, Allen Nance, CMO Machine Learning + AI Scaling Digital with True Personalization VMware, Cindy Phan, Sr. Manager, Digital Demand Strategy Building and Integrated Digital Frameworks Performics, Paul Williams, VP Director Understanding Intent for Cross-Channel Experience Creation Learn more about this session here.
Business and Career Elevation Track
The Digital Marketing Maturity Model: People, Process & Technology Kelly Rivard, SEO Strategist, Hallmark Cards 100 Years of History, 1 Year of SEO: Hallmark in the digital space HPE, Vicque Chan, Senior Digital Marketing Manager Build and Maturing Process to Effectively Drive Overall Performance Learn more about this session here.
Creative Storytelling & Evangelizing Success: Selling Ideas, Building Cases Staples, Michel Kant, SEO Manager, Staples Europe Scaling In-House SEO by Integrating in the Org One Small Step at a Time HP, Amy Shipman, Global Digital Go-to-Market Strategist Problems, Solutions and Influence The Denver Post, Dan Petty, Senior Editor Evangelizing and Publishing Success Learn more about this session here.
Digital Career Success Stories: Practitioner to Organizational Leader Open Table, Scott Lavelle, Director, Global SEO Marketing Career Development – How to break through internal and external barriers Mylan, Jolene Pierangeli, Associate Director, Digital Marketing Zero to Hero: How the Vivarin Site was Revived – A personal story Red Hat, Jairus Mitchell, Program Manager, Search Engine Optimization Corralling Chaos, The Open-Source Way Learn more about this session here.
The Digital Marketing Mind: The Psychology of Self Development Adobe, Dave Lloyd, Principal Consultant, Optimization and Personalization The 4 Areas of Self-Directed Career Growth Mel Carson, US Brand Ambassador, Majestic, Delightful Communications 7 Practical Tips on Personal Branding Success Merkle, Adam Audette, SVP of SEO How to Develop Hybrid Digital Marketing Skills Learn more about this session here.
Organizational Design: Building Digital Centers of Excellence Garrett Mehrguth, CEO, Directive Consulting Managing and Organizing Marketing Teams by Their Inputs REI, Eric Hess, Senior Program Manager, Content and SEO REI, Ryan Ricketts, Senior Program Manager, SEO & UGC Learnings from REI on a Split SEO Program Learn more about this session here.
Panel Discussion on Building an Extended Team: Working with Agencies and Contractors EXCLUSIVE, Nik Rajpal, VP of Marketing Sciences Performics, Ryan Sullivan, SVP, Performance Services 97th Floor, Wayne Sleight, COO Noble Studios, Michael Thomas, Chief Marketing Officer and Partner Learn more about this session here Thats a lot of content !! We look forward to sharing more insights and hosting you all at Share16. Click here to Register for Share16 Venue Details October 24 to 26, 2016 Westin St. Francis, Union Square, San Francisco.