Scott Lavelle of OpenTable discusses the evolving industry and the growth of hybrid marketers. Learn more from Scott during his Share 16 session on October 25.
"BrightEdge serves as our primary platform for SEO analysis and testing results. In addition, the Data Cube has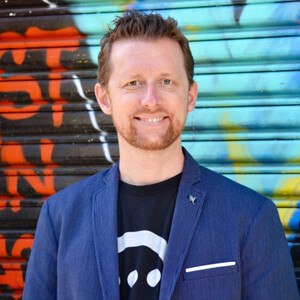 become my 'decision engine' for opportunity sizing and competitive analysis." - Scott Lavelle, OpenTable Here in San Francisco we are excitedly making the final preparations for Share16, which is only weeks away. As our attendee list grows, we wanted to sit down with some of our fantastic speakers to let you know about the incredible content you are going to hear during the sessions We had a great conversation recently with Scott Lavelle, the Director of Global SEO Marketing at OpenTable. We spoke about the importance of hybrid marketers and some of the latest challenges and trends in the industry.
BrightEdge: What do you see as the biggest trend in marketing as we approach the end of 2016?
Scott Lavelle: I would say better retargeting and audience segmentation. Really understanding your audience better and leveraging user-level analysis and insights so you can segment your audience. Marketing specifically to users who are at different lifecycle states. In the past, this was not super common. Marketers focused more on just using acquisition channels to get people in the door. Now everything is becoming more precise. There is new - and improved - technology and enhanced retargeting.
BE: Very interesting. What do you think is the biggest opportunity for marketers and brands who want to move forward?
SL: This ties into the advice I give in my presentation. As the industry heads more towards multi-channel marketing with significant overlap, marketers have the opportunity to break out of their silos. SEO, PPC, Display, and Paid Social for example, all overlap and these channels can drive one another. We shouldn't be focused on "defending our turf" or convincing senior leaders that our channel is the most important - we want these channels to overlap and work together. We need to be hybrid marketers. Marketers and brands who understand the value of bringing teams together have the opportunity to grow as a brand and really mature in their marketing strategy. Having multiple channels work together really helps brands better engage their customers.
BE: What is your biggest challenge as a marketer?
SL: For me, the biggest challenge is multi-channel digital marketing attribution. It is tough. I haven't seen any company that has the perfect set-up and no one understands with 100 percent accuracy exactly how channels overlap and should receive credit. It might actually be a bit of a false dream to pursue 100% multi-channel attribution with no overlap. It should still be a goal, however, to understand as best we can how channels drive each other and how this impacts the different parts of the funnel, including mobile apps. Sorting that out and understanding the data is probably my biggest struggle.
BE: What are your suggestions on how to elevate SEO and content marketing with executives?
SL: When it comes to SEO, the important thing is to try and emphasize ROI. Senior leaders and executives are always thinking about marketing in terms of ROI. Most marketing has specific ad spend. SEO is different because the budget is typically fixed costs - tools, team resources - and no ad spend. It has the potential to be the highest ROI marketing channel in your mix. Executives need to understand, however, that SEO takes time, there is no instant gratification. In this way, it is the opposite of PPC. You can spend X dollars on PPC and see immediate results. In SEO, you can launch landing pages and you may have to wait months to really see results. You want to communicate to executives what it is that you are doing, when you can expect to see results, and how these actions are impacting traffic, reach, conversions, and ROI.
BE: So what are you going to speak about at Share?
SL: I will speak about the importance of being hybrid marketers and using that as a means of growing within the industry. You know, I never really thought of myself as being "an SEO". I love SEO and have led this channel for years, but I try to take a broader view of growth drivers. More than ever, channels are overlapping and need to work together to see success. The spirit of my session will be to discuss going from doing hands-on work to becoming a marketing leader. I believe the more classic business skills outside of specific expertise in your field are what sets you apart in your career. For example, the ability to lead meetings, do presentations, create clear reports and analysis, forecasting, negotiation, persuasion, and team leadership skills. I have an MBA, and while that isn't necessary in digital marketing, I have found my training in the broader business skills really valuable.
BE: Is there anything fun we should know about you?
SL: I am a huge music fanatic. I love to see live music and play guitar. I am even the unofficial DJ for OpenTable when we have company events! Well, I think we know who we will be speaking to when we want advice about the local music scene in the San Francisco area. We cannot wait to hear his insights about career advancement and growing in marketing.