Although standard search engines report billions of searches globally every day, we have also been watching the rise of vertical search. These types of searches deliver a more precise experience, helping users zero in on what interests them specifically.
Users employ vertical searches when they use platforms such as TripAdvisor, Zillow, Consumer Reports, Amazon, Reddit, SlideShare, and any other of the number of different platforms that cater to a specific need or asset type. In the standard form of search--the horizontal format--users would see results from a search that explored their topic from several different angles. The goal of a vertical search is to find a specific type of information.
These searches provide users with a better, more intent-driven user experience. It becomes easier for them to find what they seek. Google has taken notice of these trends, particularly as it ties into their theme of micro-moments.
Say, for example, you want to purchase a pair of snow boots. A horizontal search might include information about finding the right pair of snow boots, ads for boots, or information about the different types. A vertical search understands that most people searching for "snow boots" will want to purchase them. In its efforts to cater to vertical search, Google lays out the current SERP for this query to include ads at the top, listings consisting of sites to buy boots, and the local search results for places to go and buy the boots at a brick-and-mortar location.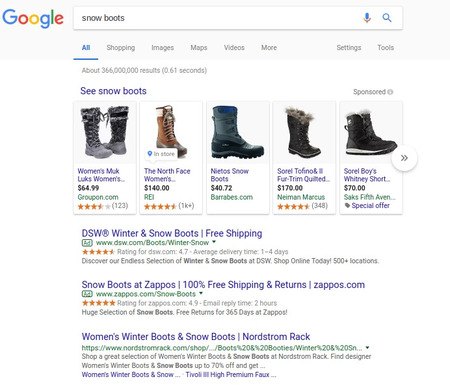 We have seen evidence of Google's investment in creating a vertical search on the SERP from a few different directions.
The rise of the vertical search on Google and new ad formats
Google's attention to user intent has led to a rise in the use of universal elements to create vertical SERP layouts. The SERPs people see, including the number of ads and their formats, the number of images, videos, news items, Quick Answers, and text results all depend upon what Google perceives as their user intent.
Google's algorithm analyzes what the user most likely will want to see. It can then arrange the search results according to the likely intent, placing a greater emphasis on the specific types of content most likely to help the user rather than returning a broad list of content types.
Over the past nine months, we at BrightEdge have also detected a large increase in the number of videos that appear on the SERP--they appear 47% more often than 1 year prior. This increase leads to more individualized SERPs tailored more precisely to the needs of the user.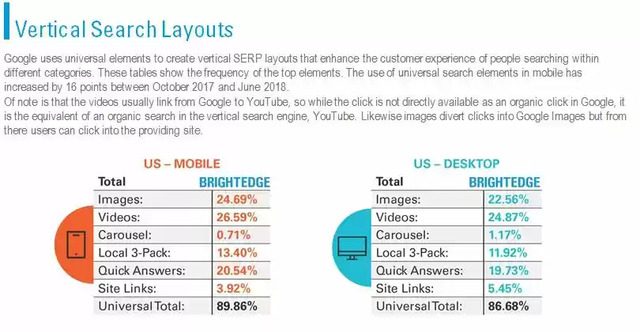 Google has also supported vertical search marketing through the release of two new ad formats. These new ad formats will allow brands to create ads that fit more precisely into these user needs and create vertical searches that will help customers find what they seek faster.
Google's new ad formats and their role in vertical search
Google has now released two new ad formats that will further help to differentiate their vertical searches.
New ad formats to showcase video ads
Google rolled out their showcase ads last year in a multi-image shopping ad format. When users on the SERP clicked on the ad, they were brought to a Google-hosted landing page that included promotions, descriptions, and a few of the products that the advertiser included on their product feed. Google displays these ads in response to broad queries.
rands do not have to pay unless a user clicks through from the expanded Google landing page to the business' website or spends more than 10 seconds looking at the expanded ad page.
Google announced that these ads have been successful. The search engine claims that they drive 3.6 times higher CTR than other types of ads and receive 20% more conversion credit in a first-click attribution model. The design of the ads targets top-of-the-funnel prospects. Consider some of the broad product queries that people might make, such as "boots" or "backpacks." Through the showcase ads, brands can upload multiple images that fit into a particular query. When the prospect clicks on one of the images, they will then be able to see the other applicable images that the brand offers, guiding them along the decision-making process.
Now, Google has released new ad formats, allowing videos in showcase ads. These will follow a similar format but allow videos to be displayed in the featured image position. When a user clicks on one of these ads, they will similarly be brought to a Google-hosted landing page. On this page, the user will be able to view a few products from the advertiser.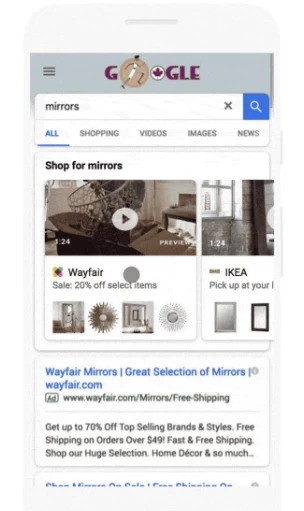 New ad formats for image ads
The image ads will be a pilot program that Google has just announced. The search engine reports that 1/3 of holiday shoppers generally look at images of products before shopping in a store. These ads will allow brands to target these shoppers by creating promotions that specifically target people looking for particular types of images on publisher sites.
For example, people visiting a popular fashion blog, such as This Time Tomorrow, will be able to see ads that promote visually similar products. Over the next year, Google plans to continue to roll out new ways to use the new image searches, including new ad formats that will be displayed directly within Google Image Search.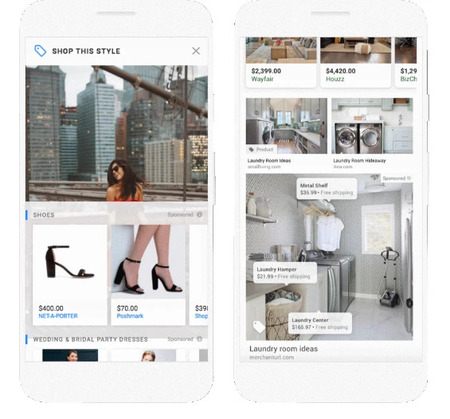 The new ad formats will appear largely on the screen and products will include labels with the prices as well as tags that announce their status as a 'sponsored' image. When the user clicks on the tag icon on this image, they will be able to see several product ads.
How brands should take advantage of these new ad formats
The ability to use video in your ads will allow you to capitalize on the popularity of this content format online. According to Google, nearly 66% of shoppers say that online video helps them come up with ideas for their next purchases. Ninety percent of online users also say that videos on YouTube have given them ideas for new products and services that they might find interesting.
People appreciate the videos because of the visual components and the ability to provide a more personalized appearance-- you feel as though someone is speaking to you.
The new ad formats are designed to help brands take advantage of the lifestyle trends on shopping habits. Today's buyers tend to be strongly persuaded by online influencers and similar personalities. By creating ads that fit well with some of these blogs and other publishers, everyone can work together to create a seamless experience for the prospective customer.
People today have begun to turn increasingly towards vertical searches as the ability for channels to serve up increasingly personalized results continues to improve. Google continues to look for ways to serve their users interested in these precise results. Their introduction of these two new ad formats will help to create an improved shopping vertical for those interested in finding new products to purchase, just in time for the holiday season.
Likewise, using a comprehensive SEO platform will keep you on top of the changes and evolutions in organic search.