When 91% of people have their mobile phone within a 3-meter radius 100% of the time, businesses need to evaluate the importance of mobile SEO and devising and successfully executing a mobile marketing campaign. Additionally, there are now more searches carried out on Google on smartphones than there on tablet and desktop devices combined. Add this to the recent behavior associated with the finding of information through micro-moments, AMP, and the expected enhancement of Google's algorithm, it is clear that mobile SEO and on-the-go marketing should be carefully considered and addressed in your marketing roadmaps.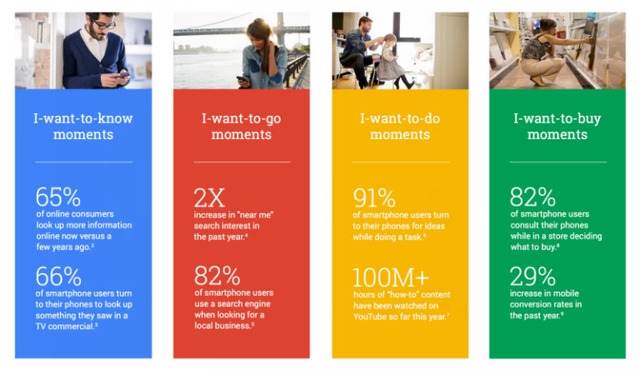 But first - mobile marketing may not suit every business. The first thing you need to do it get a device breakdown by visits and revenue to see which devices your visitors are using. This will determine the impact of implementing for your website. On the BrightEdge platform, this can easily be done through StoryBuilder. There are several options available to help you understand your audience, including 'How well is mobile driving traffic to my site?' and 'What part of my site received the most mobile traffic?' It may be that you need to rewind and develop a more robust content marketing strategy by using personas so you know who your audience is, in the first place.
Mobile SEO and marketing
There are a few requirements before you can successfully begin mobile SEO optimization:
A responsive website is fundamental so your website is displayed in the best possible way for all potential devices
Fast mobile loading times, which is not only likely to grow in algorithm weight in the coming months, but also provides a positive user experience
Analytical software so you can allow data to be the compass of your mobile SEO campaign
Once you have identified that you have a mobile audience who engages with your content and products, it is time to grow this audience through mobile SEO and marketing.
Mobile SEO and content marketing
Earlier we discussed how to determine if your audience engaged with mobile or not, there are some instances when this may not be the case. For example, sole eCommerce websites, with limited informational content, might virtually only have an I-want-to-buy audience. Now we need to dig deeper. The first step we need to take is 'audience metrics'.
Publishing mobile marketing content
Effective mobile content marketing should be published to suit your audience, not you. To do this, go to your analytic software and filter the results down by day and hour-of-the-day as well as by device. This will show you when, and by what device, your audience is viewing your website's content. Is it the case that your mobile audience is at a peak on Tuesday's before the rush hour at 8am? This is the time you need to publish more mobile-friendly content to strengthen your mobile marketing campaign. Mobile-friendlier content can include:
Making more use of bullet points to aid with content scanning. Writing a quick summary can also help with I-want-to-know moments
Write succinctly. Quick information is quality information
Enable easy social sharing icons to encourage content sharing and reach
Think about content formats. Are you reaching an audience interested in scanning a quick blog post on the train to work? Are you catching people along in their offices enjoying watching videos with their morning coffee? The intent journey is fundamental to mobile SEO.
Optimize for mobile keywords, such as voice search and long tail keywords
More in-depth information can be found in Search Engine Watch's Handy Guide to Mobile Content Marketing.
Why are mobile and desktop rankings different?
Whenever we carry out a search, two systems are considered: paid and organic. We found in a recent study that paid, otherwise known as PPC, searches 4-pack results were triggered for 23% of all queries. One of the huge advantages of organic search is that it is triggered for every single query - it's no surprise that SEO makes up 51% of traffic for most web sites. When it comes to organic search, several indexes are often searched and displayed on one SERP. When we type in a query, the top results from relevant indexes are displayed on one interface. If you do a search for 'San Mateo,' for example, regular web listings and images are extracted and the top results of each has a place on the SERP.
Mobile and desktop keyword rankings differ because the ranking signals are different. On mobile these are often referred to as citation signals whereas on desktop these are referred to as ranking factors. Note, that soon mobile will have its own index, but for now it runs off the same web search index that desktop uses. To gain a higher presence using mobile marketing, for example, customer ratings play a part whereas on desktop this is not the case. It is important also to not forget that physical distance plays a role on mobile ranks. Mobile searches tend to display more local information which can push regular web listings further down the SERP. For these reasons mobile and desktop rankings are different.
Local SEO citation signals
Summary available below, more explanation is given here:
Carry out localized keyword research, constantly thinking of local dialect terms and phrases to strengthen your advanced on-page seo and insert these, naturally, in the places where search engines look, such as titles, headers, body of text etc.
Name, Address, Phone (NAP)
An essential requirement of mobile marketing, and Local SEO, is to have a physical address. Local SEO is very effective at increasing footfall into stores which your staff can help to convert into customers just as placing a buy button on a website does.
Register for Google My Business and to ensure efficiency, use the bulk upload feature. Register each of your stores with their unique information. And like metadata, use local dialect in the descriptions etc to make the content and location as relevant as possible.
Encourage your customers to write reviews for your stores. There are lots of tactics in which you can do this. If you are a BrightEdge customer, ask one of our Client Service Managers or Professional Services Managers to advise you on this. Mobile SEO and mobile marketing are an important part of a thorough digital marketing strategy for many brands. Understanding the impact of mobile on your business and how to optimize your site and content for on-the-go users can help you grow your brand and your reputation.