Since 2014, local search has been adapting at an incredible pace. It fits with Google's relevancy mantra—delivering the best search results to users based on their location. But that means businesses and marketers have to keep up with the changes—especially brick-and-mortar shops that rely on local traffic.
Outside of the formal algorithm rollouts, we've seen fluctuating local search and changes to Google My Business. The carousel was replaced with the local pack. The local pack was trimmed from 7 results to 3 items. Local directories were also evaluated heavily for their quality guidelines.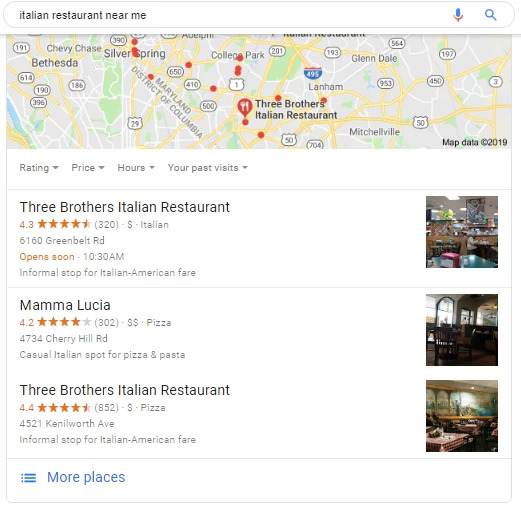 More recently, it's become vital for a business without a storefront to define its service radius. It has also become more difficult for brick-and-mortar businesses to target cities too far outside their physical address.
Think about what you search for when you have a specific local intent. The verticals affected most by this ever-changing landscape are the ones you'd think of first—the restaurant, hotel, and travel industries.
Although Google has not launched a major algorithm update for local search results since the Pigeon update back in 2014, they have made several changes to the Google My Business Pages. These changes have made it easier for businesses to engage with customers through the SERP, encouraging them to visit the business page and hopefully visit the store in person or make an online purchase.
Here is what every business interested in excelling in local search needs to know.
Google's Local Search Goals
Google's local ranking emphasis and ongoing local efforts contribute to the overall goal of Google—personalization and relevance. Someone searching for a local product or service, whether they're at home on a desktop or walking down the street searching on mobile, should see the best possible results.
In order to deliver on this, Google aimed to define the parameters of local search as precisely as possible. Instead of general city targets, geolocation was further dissected into neighborhoods. This gave new emphasis to the importance of a correct NAP (Name, Address, Phone Number) and a shift in how successful local marketing would be.
How Google Ranks Local Search Listings
In order to understand how local search rankings fluctuate, you have to monitor your brand and keyword targets at a local level, instead of just the US. BrightEdge can help you determine your geo-targeted market and create specific localized campaigns for your brand or service.
The local search ranking factors are important to monitor on a yearly basis. The existing ranking factors are present here, albeit with a local focus—on-page optimization for local terms, link signals with local relevance, social signals. There is also a heavy focus on specific local SEO factors—Google My Business signals, NAP consistency across citations, and the strength of your review portfolio. Now quality is favored over quantity, and the search radius continues to shrink with laser-like precision to the business's storefront address and neighborhood.
In addition, signals like reviews and citations are also becoming more refined under the Google microscope. Accuracy and relevancy can enhance citation signals along with the quality of the directory or aggregator used. Just a large volume of reviews isn't enough to rank either—the timing, consistency, and the quality of review sites are all factored into the local search ranking algorithm.
In addition to your existing strategy that targets your brand, products or services with high-volume keywords, you'll need almost an entirely different strategy that targets your local neighborhood, or to at least weave some local search elements into your existing content.
First you want to identify your radius and your local audience. What neighborhoods do you want to reach, and who makes up those neighborhoods? What are they searching for, and how can you help them?
This is where your content strategy can go outside the grid when it comes to your brand. If you're a maternity clothing store in Astoria, you want to build content for new moms and maternity clothes. But you can also hone in on your local keyword targeting by writing about the best daycares in Astoria and your surrounding neighborhoods—relevant and hyperlocal.
In order to identify your audience and their needs, you can use the tools already at your disposal—Google Analytics demographic information and interest categories, Facebook Insights, AdWords Keyword Tool and more.
It's important to monitor your content performance for your local search strategy. Identify the goals you want to achieve—do you want more traffic from your surrounding neighborhoods? Do you want to rank for local search queries? Do you want more sales from your immediate location? Once you've identified your goals, tailor your local content strategy to achieve them.
In addition to just creating content, make sure you are optimizing it. Craft local-focused meta titles and descriptions and optimize your images for local search.
Pay attention to your industry. If you're in real estate or hospitality, you can corner the local content market with neighborhood guides, local landing pages, and "best of" lists.
The key for local content is to be useful to your market. That can mean promoting events, news, sports teams, or little-known spots and becoming the go-to resource for your neighborhood.
Best Practices for Local Search
If you're looking to ramp up your current SEO strategy, or if you're starting from scratch, there are best practices to consider for your local SEO.
Consistency
Both on and off site, your Name/Address/Phone Number listing needs to be consistent. It's worth spending the time to update anywhere your business might be located on the web to match exactly how you're listed on your website.
Citations
Speaking of your business listings, check to make sure you're listed everywhere that's relevant to your business and seen as a quality site. Sites like Yelp, Foursquare, and of course:
Optimize your Google Business Page
Update and optimize your Google My Business page with your NAP, categories, keyword-targeted description, photos, and more.
Optimize on-page for local
Your content and site architecture should reflect your local search strategy. Make sure your city and neighborhood targets are present in your copy and metadata. Take advantage of Schema markup to boost this content.
Manage your reputation
Your online reviews can make or break your local business—and Google knows this too. Review signals are quickly climbing the ranks as part of the ever-changing local algorithm.
Do not neglect mobile
Remember that Google has found an estimated 94 percent of smartphone users have looked for local information. Make sure that your page is fully mobile compatible and that your content has been optimized for users on-the-go.
A local content strategy and citation building strategy should be ongoing. Make sure to start with your site foundation to create an optimized local template for copy and metadata. Don't Overlook These Crucial Parts of Local SEO
Taking advantage of Google Business Pages
Most businesses know that claiming their Google Business page comprises step one of a successful local search strategy. Over the past few years, however, Google has also introduced a number of new features for the pages. These features offer opportunities to engage even further with prospective customers and attract attention to their pages.
Google Q&A
Prospective customers can ask questions of businesses right from the SERP. These questions appear on your local search listing when your business pops up. Many businesses fail to pay attention to these questions, which results in long lists of questions that appear on the page with no answer. Sometimes even worse, the answers that do appear come from other users and might not be helpful for the business or might even be detrimental.
Neglecting to answer your questions can detract from your efforts to demonstrate that you care about your customers. Remember also that the questions people submit, chances are other prospective customers want to know, too. Prioritizing answering these questions will improve your appearance on local listings and give customers a better understanding of how you can meet their needs.
See What's In Store
You have the option of allowing customers to see what is in your store, before they even step foot in your building or visit your ecommerce site. Those looking for a particular product will appreciate this opportunity to verify that you carry what they need before they go through the effort of going to your business. For customers deciding which store to use, your ability to provide with concrete evidence that you will meet their needs will encourage them to convert.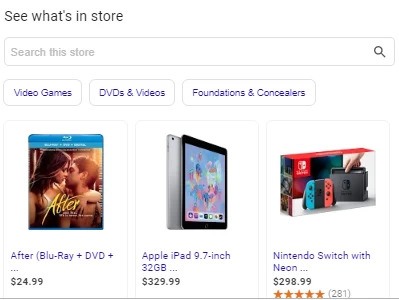 You can create temporary posts on your Google Business page that will allow you to notify customers about various important events, services, or listings right when it is most likely to have an impact. You can create posts directly from the Google My Business App. Posts do expire and the purpose is to highlight timely news or promotions. Google displays the posts to customers on your Google Business Page, so use them to give prospective customers one more reason to visit.
Reputation Management and Local SEO
Reviews are crucial to your local SEO strategy. Not only are they considered a ranking signal, but managing your reviews should be extremely important to you as a business owner. Why? Because it's extremely important to your customers.
Earning favorable reviews on the top sites—Google My Business, Yelp—will help that first interaction that local searchers will see on their desktops or mobile phones and tablets. The process of getting reviews is tricky, and one that is monitored more and more by Google. Here are some key takeaways for reviews:
Whenever possible, acquire naturally
Speed and velocity of reviews are monitored—keep track of your requests and promotions to avoid an influx of reviews
Responding to negative reviews is easier than trying to remove them
You can get creative with asking your customers to post reviews, but you should always let them know where you're listed and how to leave a review—especially in the case of a favorable sale or interaction.
The response to negative reviews can't completely combat the effect of that negative review on a potential customer, but a smart and thoughtful response can negate some of the backlash.
In addition to reviews, social media is a great way to maintain your reputation for local SEO. Using and optimizing sites like Twitter and YouTube can help boost your local content and dominate your local SERP presence.
Can't get enough local? Check out our other local SEO blogs.