Share15, the industry's leading brand-led digital conference, is only a few months away and begins on September 21, 2015 in San Francisco. In the run up to the event we're connecting with many of the world's leading brands and the speakers we've invited to Share insights into the market and tips on how to make the most of the Share experience. Last week BrightEdge caught up with Jesse Farley, online marketing strategist and SEO manager at Cabela's, to discuss Share15 and what's on Jesse's agenda.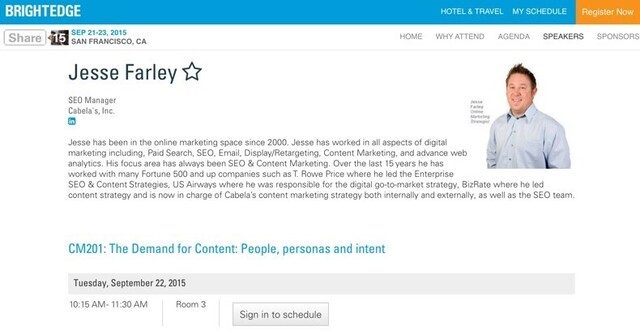 Jesse's work at Cabela's involves reinforcing Cabela's as the "World's Foremost Source for the Outdoors" via earned & owned content marketing initiatives. Below are a few extracts from our conversation:
The Search Landscape
BrightEdge: How much has the search landscape changed over the last year?
JF: It has changed dramatically. It has moved from purely transactional to conversational and transactional.
BrightEdge: What has had the biggest impact for you and your team at Cabela's?
JF: The biggest shift, is the move from just on-page SEO to more of a content marketing effort utilizing our owned and earned media initiatives, is around promoting our top-of-the-funnel content. For example: How-to guides, buyer's guides and videos.
BrightEdge: How do you see the space evolving over the next year – what should marketers look out for?
JF: I think the space will continue to evolve in the same way as it is now with a focus on conversational over transactional. Marketers should keep an eye out on how they are communicating to their audience at all times.
BrightEdge: Can you offer any tips to the Share audience on adapting to rapid change in the market?
JF: My primary tip to Share attendees would be - Never forget that digital marketing is all about how people are consuming information and providing what is valueable to them. It is not about your version of value but THEIRS.
The Content Performance Marketing Shift
BrightEdge: How are you aligning your content and search optimization efforts?
JF: The team at Cabela's has found that you can't have one without the other! Content and search, both, work hand in hand as people consume information on more than just one website, we have leveraged our agency ClearVoice to identify, recruit, and onboard influencers/websites that will can get involved in the conversation.
BrightEdge: How critical is measurement of content in your organization?
JF: The measurement of content performance is extremely critical at Cabela's! You have to measure what you doing. If you don't…then you are doing nothing more than "spraying & praying" with regard to your content production and performance. Understanding the "value of a piece of content" is a hard question to answer so we leverage not only the BrightEdge platform.
BrightEdge: Can you tell readers a little more about your view on the convergence of content and digital marketing?
JF: Content is at the center of all digital marketing campaigns. Content can be syndicated for search, you can remarket with display for those who read that content, and content can be place on-site to improve SEO and quality score for paid search.
The Cabela's partnership with BrightEdge
BrightEdge: Can you tell us more about how you use BrightEdge and how the platform helps you achieve your business objectives?
JF: Cabela's use BrightEdge to identify, inform and validate our content marketing & our SEO efforts. I love the data and intelligence we get from the platform.
Cabela's and Share15
BrightEdge: Why Share15 – why do you attend?
JF: I love to learn new things and that is what Share 15 is all about. The worlds top content, search and digital marketing minds speak at Share. With this level of thought leadership it helps get the brain juices flowing and cultivates a new class and community of digital marketing thought leaders.
BrightEdge: What are you most looking forward to?
JF: I am really looking forward to "talking shop" with other marketers at Share15, sharing insights and implementing new strategies on my return from the conference.
BrightEdge: What advice can you give Share attendees in order for them to make the most out of their Share15 experience?
JF: Take lots of notes & ask lots of questions. The opportunities to collaborate with so many of your peers at large brands, like at Share15, don't come up often. Engage with the Share15 speakers and ask them questions that help take you and your company to the next level.
About Jesse Farley
Jesse has been in the online marketing space since 2000. Jesse has worked in all aspects of digital marketing including, Paid Search, SEO, Email, Display/Retargeting, Content Marketing, and advanced web analytics. Over the last 15 years he has worked with many Fortune 500 and up companies, such as T. Rowe Price where he led the Enterprise SEO & Content Strategies, US Airways, where he was responsible for the digital go-to-market strategy, BizRate, where he led content strategy and is now in charge of Cabela's content marketing strategy both internally and externally as well as the SEO team. This year Jesse and team were responsible for a 30%-50% increase in NON-branded traffic at Cabela's. In his spare time Jesse loves to snowboard and fish. Fun fact – Jesse caught the 3rd largest Mahi in the World.
Share15 – Join the digital marketing community
This year Share15 is even bigger and better with over 60 speakers from an envious collection of the world's leading brands. In fact, no other conference compares to Share with regard to
Concentration of quality brands and thought leaders at Share15
Focus on delivery of insights and actionable takeaways
Zero tolerance on sales pitches
Attendee profiles across search, content and digital marketing
Space is limited, so register now to avoid disappointment. #Share15 @brightedge