We talk a lot about innovation at BrightEdge — it's what we're most passionate about, what gets us out of bed in the morning and keeps us working late into the night. We believe in building technology that fuels the success of our community and helps them achieve their goals. And, our community has embraced this passion for innovation. In the last year, we've delivered on over 300 ideas suggested through our Voice of the Customer Program. We're fortunate to have been recognized for this innovation. The team at BrightEdge along with our community has driven ideas that have earned us awards, such as being ranked #770 on INC's 5000 Fastest Growing Companies, receiving the BMA B2 Award - Service Provider of the Year: Marketing Technology, and being recognized with Adobe's Customer Impact Award.
With all ten of the largest ecommerce companies, nine out of the top ten largest hospitality groups and eight of the top ten largest technology companies among our BrightEdge customers, we're lucky to have built a community of marketers that drives our innovation. In particular we were inspired by the use case of our customer Microsoft. With over 30 business units and 650 users accessing the BrightEdge platform, we looked at how other leaders can win, scale, and achieve that type of success. That's where Enterprise Edition comes in. We are excited to introduce this enhanced version of our platform designed to help marketers with larger, more complex businesses scale their programs and elevate their performance. Enterprise Edition empowers marketers to run their content programs with the communication, control, and impact they need. Enterprise Edition addresses the three main goals marketers at large companies have identified as key to their organizations:
Build Bridges
As organizations increasingly focus on content performance we want to make it easier for them to communicate results and share information across business units, geographies, and teams. A host of different Enterprise Edition capabilities empower teams with cross-organizational alignment and reporting. Hierarchical roll ups allow products to be organized and grouped by sub-categories to clearly communicate how individual business units are performing and how this impacts the overarching product line. So, for example, a company could look at how Star Wars toys contribute to the overall action figure category's revenue.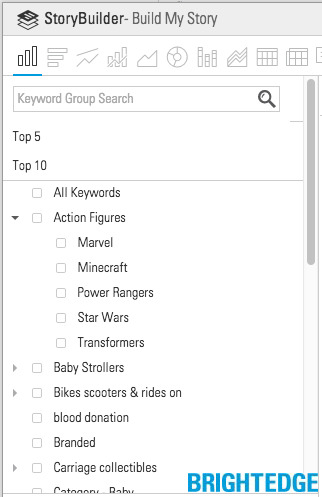 Multi-account reporting segments performance by unique web properties enabling marketers to report on things, like revenue growth for individual countries as well as aggregates performance to show how a regions such as EMEA is performing year over year.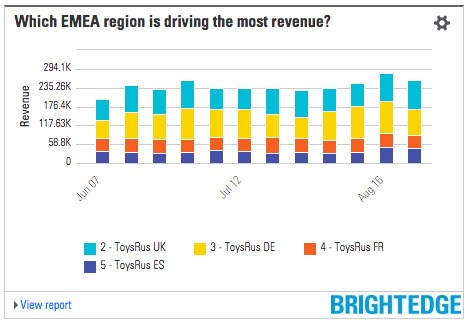 Maintain Control
Sophisticated companies have many stakeholders with varying roles and responsibilities that contribute to content performance efforts. With custom profiles, organizations can ensure the right people have access to the right areas of the platform to retain control as they grow and scale. Administrators can create custom profiles to govern access levels that suit the roles and responsibilities of all types of team members. For example an administrator may setup a category manager's access with permissions limited to view only their specific business category, whereas a Technical Analyst may have access to Site Audit.
In addition, Activity Stream shows administrators what changes have been made to the system and by whom in order to increase clarity and supervision.
Elevate Results
While organizations are made up of many different individuals, teams and departments, what matters at the end of the day is driving impact as a whole. Enterprise Edition allows administrators to customize fiscal calendars and goals in order to reflect their brand's individual practices for the most relevant insight and recommendations. Metrics can be customized, and common KPIs can be established to shed light on performance across category and location in a uniform way, giving insight into market share and competition.
With Enterprise Edition, we help marketers scale their programs, retain control, and elevate their performance. To us, that's the ultimate sign of success — so to the BrightEdge community, I want to say thank you and congratulations. We couldn't do it without you.