We often forget how important branded keywords can be for our business. Users that search for your brand terms are often your most valuable customers, or have the potential to be. They can be returning customers, people seeking to learn more about your brand, or people who have previously seen some of your marketing campaigns. The first thing you may be asking yourself is, "Why should I track branded terms in the first place? I must be ranking No. 1, right?" To which I'll say, "What if you're not?" In today's post, we're going to walk you through how to effectively monitor keywords and track them in BrightEdge.
Before you start: create a dashboard in BrightEdge
Our ultimate goal is to set up and create a dashboard that is meaningful, helps you track your branded keyword performance, and is automatically delivered to you on a weekly basis so you can proactively understand the performance of your branded keywords. The first thing we'll need to do is add in relevant keywords. At a minimum, we suggest tracking two variations of your brand, for example, "BrightEdge" as well as "Brightedge.com". A good rule of thumb would be to use 1 to 2 percent of the allocated keywords in your account to track branded keywords. Pro tip: Integrate your Google Webmaster Tools (GWT) account with BrightEdge to see which branded search terms are driving the most clicks and impressions. Next, let's dig in and get our hands dirty. Here are the reports we'll need to add to the dashboard:
Trended Rank
Table Report (Keyword Details)
GWT Clicks and Impressions (filtered by branded terms)
Share of Voice (SOV)
*Bonus*
Let's go into a little more detail on each …
Step 1: trended rank report
In this report, we'll be looking at our set of branded keywords and how they are performing over time, broken down by each page (Page 1, Page 2, Page 3 and Pages 4 to 10). The chart settings for the image below are:
Full Width
Ranked on Pages 1 to 10
Display Data Values (within Advanced Options)
Pro tip: We also recommend giving each chart a unique name that reflects what it contains.

What to watch for:
You want to see all blue. If not, start to drill into the keyword details from the Table Report.
Step 2: table report
In this report, we'll be looking at the keyword ranking details for your branded keyword set in both Google and Bing. The chart settings for the image below are:
Select Google U.S. and Bing U.S.
Show Search Volume
Sort by Search Volume, Descending

What to watch for:
You want all of your keywords to rank in position No. 1. If they're not, do a quick search and see why not.
Step 3: GWT clicks and impressions report
In this report, we'll be looking at the clicks and impressions from Google Webmaster Tools. We need to first create a "Branded" filter by going to Reports -> Sites -> Clicks and Impressions Report, where you'll input your brand name or a partial match if there a lot of variations or misspellings. From there, you can add this chart directly into the dashboard we've already created, by hovering in the top-right of the data table. These filters will persist once you add this report into a dashboard. If you prefer to sort by something other than clicks, such as impressions or click-through rate (CTR), click the relevant column header to sort by that metric. This setting will also persist. Sample image below: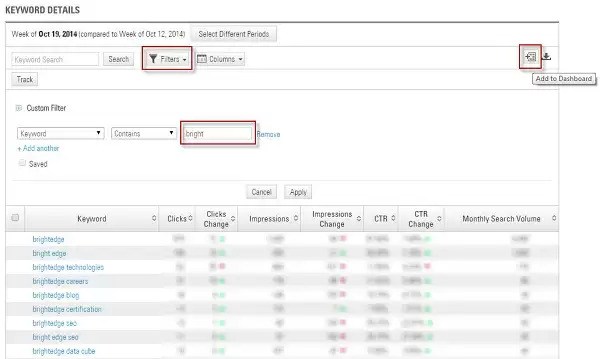 Pro tip: Save your filters to save you time in the future. What to watch for:
Any CTR that is significantly different from the norm. If so, do a quick search and see why that may be the case.
Step 4: Share of Voice (SOV) report
In this report, we'll be adding in our Share of Voice charts, which will help us understand what other websites are ranking for our brand terms. This can be very valuable from a brand reputation management standpoint. The chart settings for both images below are:
Calculate the SOV measuring your domain against the complete competitive landscape.
Select the appropriate branded keyword group.
Use the default half-width chart.

What to watch for:
Make sure there isn't any negative websites ranking (i.e., pissedoffconsumer.com).
Monitor which of your other (social) profiles are ranking.
Look to see if any of your link-building or PR campaigns are showing up in the Top 10.
There could also be opportunities for external outreach with these domains (partnership development or link-building)
Make sure to save your dashboard, and then close it. From there you can schedule an email for weekly delivery.
Step 5: bonus reports
There are a few other keyword combinations you can track (Setup -> Keywords) that could be helpful to monitor, such as:
Brand name + reviews
Brand name + coupons
Brand name + careers
Brand name versus competitor
Any prominent employee that works for your company, such as the CEO
Keywords that would be unique to your business, such as a product that only you make
And that's all there is to it. Enjoy your peace of mind when you monitor keywords for one of your most important SEO assets for on-page copy and video, your branded keywords.