Cindy Phan is the Senior Manager of Digital Marketing Strategy at VMware and this is her 3rd time at Share15! Cindy first joined the company back in 2011 and since then has largely created her position. As the company went through organizational changes and shifted towards digital marketing, she found herself leading the digital marketing strategy for the group. We thought her insights into the industry and the ever-changing digital marketing space made her an excellent resource and we were excited to have the chance to chat before Share15 kicks off on 21 .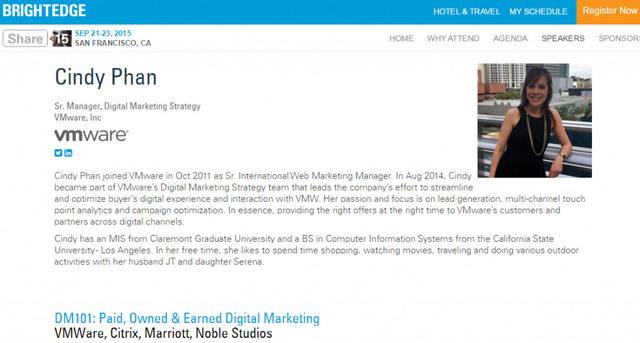 Excitement about Share15
BrightEdge (BE): What are you looking forward to most about Share?
Cindy Phan (CP): This is my third time attending Share. I have always tried to attend at least a few sessions and networking events each year because it is an exciting few days. I love having the chance to meet the different industry greats and exchange ideas at Share. Of course, the fantastic food and fun times at the parties do not hurt the experience either!
BE: What are you planning on speaking about at Share?
CP: I plan on sharing a case study that we did here at VMware. We focused on determining the value of our social and major components, starting about a year ago, and we have some exciting insights to share. I plan on diving into the information and explaining how we plan on putting it to good use and how to optimize and leverage this value at your own organization. Many people do not consider all the levels of optimization. For example, in-channel optimization is big. You can optimize pieces within your social media presence, such as your LinkedIn page or your Facebook page, to attract more traffic and enhance the value of these profiles. I really want to help people see the big picture and how all the little things they do along the way can come together to make their brands an online success.
The Role of BrightEdge in Digital Success
BE: How has BrightEdge helped you accomplish your goals?
CP: BrightEdge has always been the backbone of our website. When I was a part of the web team we were focused on going international and leveraging BrightEdge to make sure that all the pages had relevant content. Producing content for an international audience has its own type of challenges, including the struggle to understand the local audience and what they want to read. BrightEdge made it possible for us to monitor our websites closely so that we could see how they were performing. We used a number of the different components available on the platform: Share of Voice, keywords, traffic monitoring, recommendations. The platform allowed us to amplify our efforts and really grow our online presence.
Common Marketing Mistakes to Avoid
BE: What do you think is one of the most common mistakes of marketers?
CP: I think that people spend too much time measuring metrics that really do not matter at the end of the day. It is fantastic if a lot of people are reading and sharing your content, but that does not really put money in the bank. You have to see how much your material actually contributes to your pipeline and ROI. When you are beginning a marketing campaign you are given a budget, and you need to spend that money like it was your own. Chances are, you do not go out and spend your money without thinking about the consequences. You make decisions wisely about what will best serve you. When you start a new campaign you want to carefully measure and execute the campaign according to what will best serve the brand best financially. You need to choose the best tools and tactics and then track everything from a-z.
How to Become a Successful Marketer and Elevate Your Career
BE: What do you think makes a successful marketer?
CP: Marketers are an interesting bunch. Successful ones are hybrids. They have to be both creative and analytical. It takes a special type of person to be both. You have to really enjoy the field and be willing to always try new things. It will get boring very fast if you are always doing the same thing day in and day out. If you are willing to experiment and look for new things to try, it can be an incredibly exciting field.
The Fun Stuff
BE: Can you tell us something fun about yourself?
CP: I actually ran a tea shop for a about 4 years. I think that gives me a unique perspective on the role of a business. This really helps me remember the importance of being customer-centric. It is a lot easier to remember the customer when you deal with them every day as they come into your shop than when you are a large business locked away in an office building, but keeping the customer is critical no matter how big you get. It was fun having the opportunity to speak with Cindy before Share. We look forward to seeing her again in just a few weeks at the event.
If you have not had the opportunity to register for Share15, make sure you head over to our conference page and sign up. We look forward to seeing you there!
Conference Details September 21-23 Westin St Francis San Francisco, CA