David Fisher serves as the Global Head of Search Marketing for Schneider Electric, an international company that has been around for more than 150 years. He is responsible for managing SEO for all the Schneider Electric web assets as well as PPC advertising, strategic direction and the on-site search capabilities for the brand. He has been spending the last year optimizing the web properties of the company, which has been a considerable undertaking that intrigued us. David sat down with us to discuss his excitement for Share, the progress he has made at the company, the role of BrightEdge as well as his thoughts on the industry in general. It was a fantastic discussion that we cannot wait to continue at Share in a few weeks.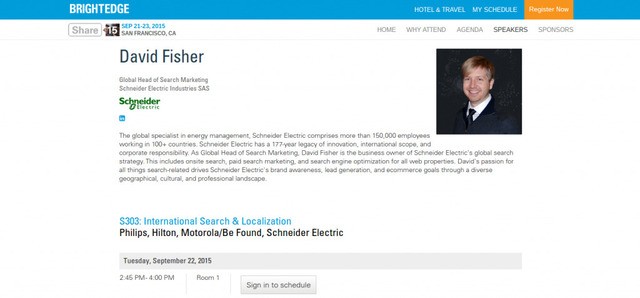 The Networking at Share
BrightEdge (BE): What are you looking forward to most about Share?
David Fisher (DF): This is my first Share and I am really excited about the interpersonal connection. I do not really know anyone who does what I do, but I look forward to having the opportunity to rub shoulders with some of the best in the industry-- to meet people that I can connect with and send that email or call when I want to bounce ideas off someone.
"It will be great to meet others who fully understand my job and what I am trying to accomplish."
I really think the best way to get the most out of Share, or any conference experience, is to never be shy about introducing yourself. Turn to the person sitting next to you and just start talking. You never know if they are going to have the advice or experience you need.
On Share and Global Marketing
BE: What will you speak about at the conference?
DF: I will discuss how a brand can push a global effort while managing it on a local level. The biggest piece of this puzzle is realizing that unless you can speak every language, you are going to need people to help you with your global effort. You need to find a balance between giving people free reign and micromanaging them. I will also be discussing the challenges of translating and analyzing content on an international level. For example, we have worked to develop a database of keywords and translations of those words to ensure that our content is optimized for the different countries and that the words are always translated the same way. I will look to share some of the insights I have gained working at Schneider.
About BrightEdge
BE: Can you tell us a little more about how BrightEdge has helped you with your goals in the past year?
DF: I was actually brought on last fall and I have really been focused on change management and helping to bring the brand up to speed. We have been using the BrightEdge platform to track our variety of different web properties. We are a global brand and we have different domains for most countries where we operate-- that means that we have 60 different domains. While this system might not work for everyone, it works well for us. It does make my job a bit more complicated. I have to monitor the optimization, track keywords, traffic and all other analytics for all of our sites-- not just one. We needed a system that could handle our enormous needs, and BrightEdge met the challenge with ease.
"BrightEdge is like a data cruncher on steroids. I have shown it to others and they have been amazed at its capabilities. The Share of Voice, data analysis, Data Cube and other applications make it easy for us to easily see how our different sites are performing. I love introducing people to the program. Even people who are not really 'techy' get excited about the features, which then helps me sell them on the larger idea of SEO and optimization. We already have probably 400 users on the platform and we are looking to add even more in 2016."
Growing with Your Marketing Efforts
BE: What insights about the shift from keyword to page performance strategies have you gained from your work at Schneider?
DF: That is where we are. All the latest advice says, "keywords do not matter"... I tell people: keywords do not matter-- once you have already optimized your content. We are still at that initial stage, getting our content properly optimized. I have found it to be very important to take a step back and evaluate your site. Brands really need to look at their long-term strategy and how they want their website to fit in with their company. Will it be for brand awareness? Will it be used for ecommerce? Once you see how your website fits into your long-term goals, you can work to begin to design pages that fit with that goal and measure more meaningful metrics. Right now we are working to increase our content production and encourage people to opt in and let us know who they are, such as establishing newsletter opt-in or signing up for a callback. In the next year, we hope to begin the shift towards using data instead of hunches. We also want to make the switch from having web assets because that is what you are supposed to do and actually leveraging them for conversions.
BE: What advice you give people about the convergence of paid, owned and earned media?
DF: If you are not at least strategically aligned, then you are really missing out on key opportunities. It is going to be a challenge because there are significant differences in the strategies between the different types of marketing, but you should have at least a high level agreement across all the types of media about your goals and how they fit together. Make it a priority to establish their core alignment to see success in your marketing strategies.
The fun stuff
BE: Can you tell us something fun about yourself?
DF: I am actually a milliner. In other words, I am an experienced hat maker. It was a bit of a spontaneous interest. I was watching Alice in Wonderland and googled hat making. I ended up stumbling upon a class at a local community college and the rest is history. It has been a hobby for about 6 years now.
BE: What about your company, anything interesting there?
DF: I find it intriguing that I do not actually share an office with anyone else with whom I work. I have colleagues in Paris, Rhode Island, California... it really is a global team! It was great chatting with David in preparation for Share15.
Conference Details September 21-23 Westin St. Francis San Francisco, CA