Google announced this week that it launched a new way of displaying additional search results on the mobile SERP, the More Results button, effectively removing pagination. How does this impact your site?
According to a tweet from Google's SearchLiason Twitter account, secondary organic search results will now be displayed differently on mobile. Upon reaching the bottom of the SERP and clicking "More Results" the SERP will now extend down to present more results that the user can scroll down to. The stated goal of this change is to speed up the way users view more search results by eliminating the step of navigating to a new page of search results. The tweet from Danny Sullivan, along with an animated example of the new More Results button:
We've launched a new "More results" button that makes it easier & faster to get more search results on mobile. Now additional listings load below the ones already being viewed, rather than the old "Next" button that would load an entirely new page.... pic.twitter.com/A4ZMXFlwd0

— Google SearchLiaison (@searchliaison) April 11, 2018
By removing pagination from mobile SERPs, users now more or less see organic search results as a single, ever-expanding results page, a format that seems more compatible with touchscreen scrolling behavior.
Does "More Results" affect SEO strategy?
It's a given that mobile SEO is highly important. We know that 57% of all online traffic now comes from mobile and saw previously that 79% of keywords rank differently on mobile vs. desktop. On top of that, Google has made it clear that the mobile-first index is happening this year. That said, it doesn't seem likely that this will have an outsized on effect on mobile SEO strategy.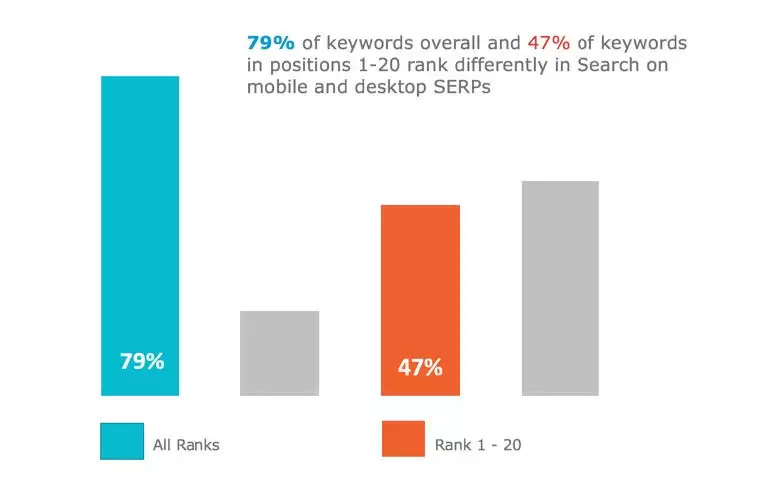 The switchover to the More Results button affects search results that would have appeared on Page 2 and lower. You can argue that since click-through rate for Organic listings tends to be far higher for Positions 1-5 with a steep drop-off for everything below that range, the potential impact of a SERP change that only affects Page 2+ is small. As such the overall effect of being in Rank 20 doesn't change regardless of whether that rank is on Page 2 or the first batch of listings after a More Results click. Also, as of 2016 a full 20% of Google search queries on mobile were conducted via Voice. Many of these searches, depending on the query, bypass the SERP experience entirely, and it's a fair assumption that the percentage of mobile voice queries will increase as the technology continues to become more common. You could argue that abandoning paginated results on mobile has a chance of increasing user engagement with longtail search results as moving to a behavior that's more intuitive for touchscreen interactions may make users more likely to move further down the SERP on their devices. This is something that BrightEdge will be keeping an eye on for the community. Google suggested one other potential impact in the second half of its statement: "As for ads, the button will load more organic results first, then ads when relevant underneath those." This seems to open up the possibility of appearing in paid listings much further down the SERP, though there currently isn't any indication of whether these additional ads can be targeted specifically or how that would be rendered in the AdWords interface.
Don't overreact
Google has been testing the More Results button since last month. The general rollout of the feature would suggest that the test ended in favor of the experiment or change. Despite that, Google is constantly measuring and evaluating the performance of all of its features. It's not outside the realm of possibility that the More Results button could somehow change or be replaced with another feature down the line. Google's main objective is providing the optimal user experience, and search results pages can and will change on a rolling basis in pursuit that goal. On the SERP, nothing is set in stone. It should also be noted that as of the publishing of this post, the More Results button is live on all mobile browsers except for Chrome on iOS. Request a demo to learn more about BrightEdge.