The digital marketing landscape is undergoing a significant transformation, driven by advancements in artificial intelligence (AI) technologies. The recent Google I/O developer conference was a testament to this, revealing a host of AI-driven tools and initiatives set to reshape the future of Search Engine Optimization (SEO). Here, we'll delve into these key developments, their implications for SEO, and how you can leverage them to stay ahead of the curve.
The Emergence of Generative AI in Search
Generative AI, a type of artificial intelligence that generates original content, has become a game-changer in the digital marketing world. Leading the charge are OpenAI's ChatGPT and Google's Bard.
ChatGPT, a conversational AI developed by OpenAI, garnered over a million users in the weeks following its launch and has since been integrated into Microsoft's Bing search app. It has started reshaping the digital marketing landscape by allowing users to search in a more conversation-like manner and automating repetitive tasks for SEO professionals.
Google's response to ChatGPT was Bard, an AI platform that provides real-time, web-based information. Bard enhances user interactions with digital content and simplifies SEO processes, despite some initial mixed reviews. The evolution of these generative AI platforms is set to redefine user search behavior and SEO efficiency.
Google's Innovations at Google I/O: Shaping the Future of SEO
Google I/O unveiled several major innovations that are expected to have far-reaching effects on the way we use search engines and approach SEO.
Search Generative Experiences (SGE): Google is developing SGE to create data summaries, respond to conversational queries, and generate new results. This interactive search approach is similar to Google's featured snippets and aims to offer user-desired answers directly on the search results page.
Bard: Google's AI Chat Tool: Bard is now integrated into Google's Search Engine Results Pages (SERPs). It enhances user interactions, enabling in-depth insights and recommendations during searches.
Project MAGI: This long-term research project by Google AI seeks to create an intelligent search engine that understands natural language searches and provides relevant information, even if it isn't explicitly requested in search queries.
Search Labs: Accessible on Chrome desktop and the Google App, Search Labs provide a platform for user feedback to enhance the generative search experience over time.
Helpful Content: Google is refining its content system to offer more valuable and relevant information, reducing repetitive search results. This system recognizes personal and expert perspectives, enhancing the user experience.
Google Maps and Immersive Views: The introduction of multi-search near me and immersive views aims to optimize user experience and enhance user engagement.
Search Perspectives: This feature is still in the pipeline, and it aims to offer diverse experiences and viewpoints, focusing on videos, images, and posts from online discussion boards, Q&A channels, and social media sites.
BrightEdge's Response to the Changing Landscape: Prepare, Be Patient, and Stay Agile
As search engines become more integrated with chat and conversation-based technology, it is essential for SEO professionals to stay ahead of these changes by being prepared, patient, and agile.
Preparation: Optimize your site for conversational search queries, adhere to Core Web Vitals such as page speed and structure, design context-focused content, and understand your competition on SERPs. BrightEdge's SearchIQ and Data Cube can help you stay ahead in these areas.
Patience: Generative AI technology is still in its infancy, and it's important for SEO professionals to approach it cautiously. Keep abreast of the technology's developments and progress and use BrightEdge to analyze changing patterns across all digital channels with integrated page and channel reporting.
Agility: SEO professionals need to adapt quickly to changes in the digital marketing landscape. BrightEdge can help streamline tasks, allowing you to focus more on developing effective strategies.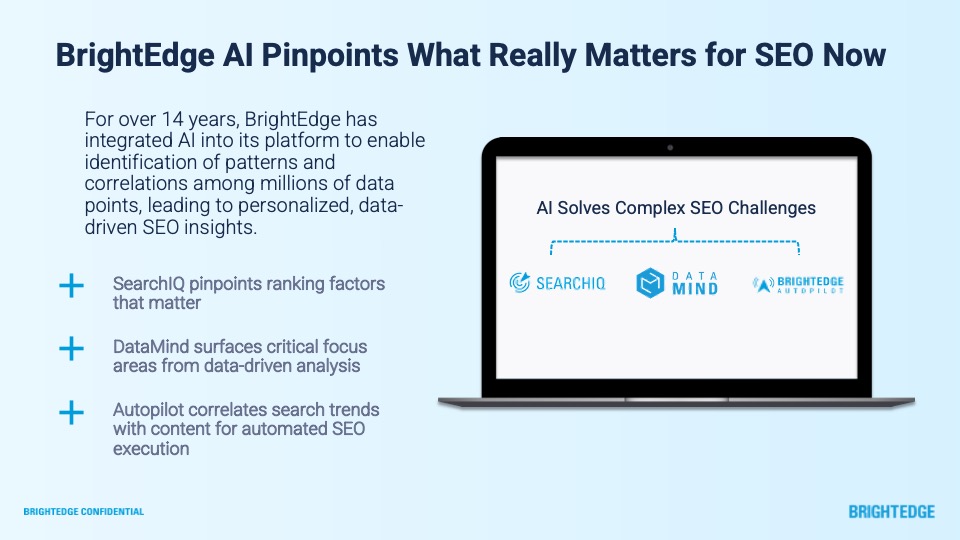 Key Recommendations for SEO Professionals
Site Experiences and Optimization: Use BrightEdge SearchIQ to maintain top rankings and deliver a winning user experience on your website.
Conversion Rate Optimization (CRO): Understand the behaviors and content that lead to conversions and optimize them using BrightEdge's AI-powered DataMind.
Content Formats: Understand the roles of various content types in the organic landscape using BrightEdge Data Cube.
Agility: Maintain agility in your SEO efforts by utilizing BrightEdge's automated dashboards, anomaly detection, and recommendations.
Conclusion
The advent of generative AI technologies such as ChatGPT and Google Bard, along with Google's new initiatives, offer exciting new opportunities for SEOs to unlock value. As these technologies evolve and more platforms emerge, it is crucial for organizations to remain proactive, adaptable, and informed.
At BrightEdge, we have been integrating AI into our platform for over 15 years. Our goal is to equip SEO professionals to navigate this rapidly evolving landscape, deliver meaningful insights, and provide the most advanced tools in the industry. As we embrace the future of SEO, we look forward to partnering with you on this exciting journey.