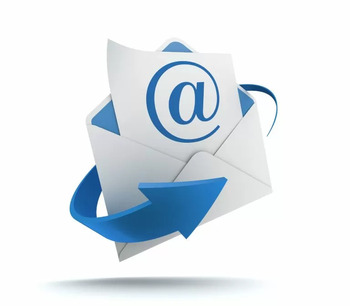 There's been much discussion about marketing automation in the past couple of years, but what is it exactly? Simply put: it's the process of automating certain marketing activities (like repetitive tasks) for efficiency in order to help a business reach a marketing goal (to convert a lead, for example). Of all the automated marketing channels available, email remains the one most widely used by B2B marketers in particular. Citing data from Regalix's December 2014 "State of Marketing Automation" B2B industry survey, eMarketer reports that email was the most important marketing automation feature cited amongst B2B marketers worldwide. In this post, we'll discuss the promise and features of automated email marketing platforms, and tips on how to get started with your own automated email program.
Why automate email marketing?
Once set up properly, automated email marketing requires little to no actual personnel to manage – which is the primary time-saving, cost-effective feature driving its superior return on investment. Other capabilities that make email marketing platforms attractive include integration with customer relationship management (CRM) and sales tools. In its guide to B2B email marketing best practices, Eloqua compares basic email marketing to automated email marketing to illustrate the differences: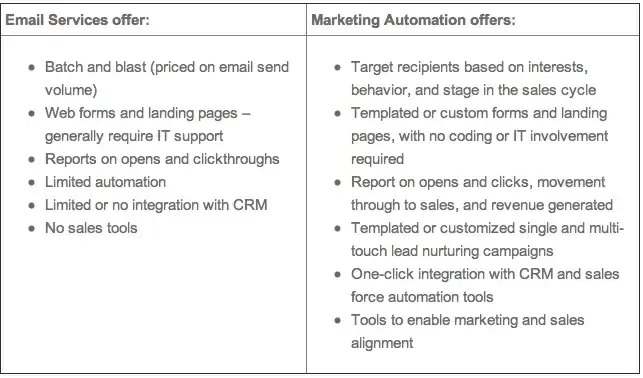 Email marketing company Emma elaborates on the benefits of email automation in the "Automation Demystified" guide. The guide points out the effectiveness of targeted email messages automatically sent in response to a user's actions (referred to as "triggered" emails), which generate a 70.5 percent higher open rate and a 152 percent higher click-through rate (CTR) than conventional "bulk" email blasts. Email marketing automation isn't reserved for large firms. A recent case study published by MarketingSherpa shows how a relatively small B2B company, HighQ, realized an astounding 2,500 percent growth in its email list by implementing an automated email marketing program. Other email automation gains reported in the study are equally impressive, such as a 47 percent average open rate and an 18 percent average CTR.
Getting started with email marketing automation
There are several choices out there for email marketing automation. Besides Eloqua and Emma, you can check out Marketo and Salesforce's email marketing arm, Pardot, to name a few. Depending on your budget and current email list (allowing for growth), there are several automated email marketing platforms from which to choose beyond those mentioned above. Here are some of the more important features to consider when selecting an email marketing automation platform:
Ease of integration with other automated marketing technologies, such as CRM and sales. Is the email automation platform compatible with the CRM and sales software already in use? Will it readily integrate with them?
Lead nurturing and scoring capabilities. Does the platform allow for lead scoring, and prompt lead nurturing emails accordingly?
Real-time reporting and dashboards features. Can email campaign managers access critical metrics at a glance, in real time?
Trigger campaign capability. Does the platform send follow-up emails to the list based on recent activity, such as downloading a white paper or filling out a form?
Ability to segment and target market sectors. Can the list of subscribers be easily segmented beyond demographics to allow for targeted emails based on their past behavior and expressed interests?
Adaptability to mobile. Does the platform's email render well on tablets and cell phones?
While these considerations are by no means exhaustive, they're a good starting point when shopping for an email automation platform. So go ahead and take a critical look at how you're communicating with prospects and customers today, and ask if your business would benefit from automating those communications, and making them more personalized in the coming year. You can start small with just one campaign, and grow your knowledge from there.