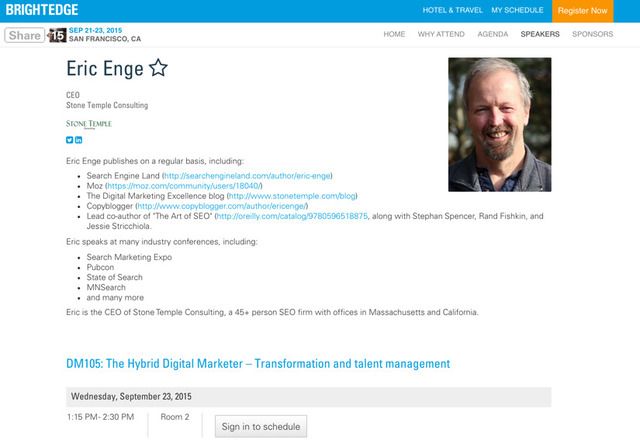 Meet Eric Enge
As a professional who has worked in SEO since 2002, Eric Enge has seen his share of industry changes. He now serves as the CEO of Stone Temple Consulting and is the lead author for The Art of SEO, which will be released for its 3rd Edition by O'Reilly Media in August 2015.
The 50-person Stone Temple Consulting agency works with some of the world's largest brands and truly practices what they preach. They bring in their clients exclusively through their content marketing strategies - there is no sales team! Eric will be attending and speaking at Share for the first time this year and is excited to rub shoulders with some of the greatest minds in the industry.
Getting together so many advanced and experienced marketers promises to provide everyone in attendance with fantastic learning and networking opportunities. Eric and BrightEdge sat down to discuss the upcoming conference as well as the changing digital landscape and how companies can get noticed.
About Share
BrightEdge (BE) We are excited to hear about your presentation at Share. Tell us more about it.
Eric Enge (EE): I am going to present on the evolution of the digital and SEO professional (or the SEO team) and what it takes to be successful in today's environment. My talk will illustrate how a successful SEO program contains many different elements that must work together to successfully get content in front of the appropriate audience. At the heart of the talk will be some ideas about how to pull together an organization or develop a personal strategy that will help you deliver outstanding results while also minimizing potential disruption from future Google algorithm changes.
In my experience, it's best to stay focused on your customer. Yes, you need to be smart about what Google is doing as well as the mechanics and limitations of search engines. Your primary priority, however, should always be on your customers and how to create a superior experience for them. That is what Google wants to rank highest anyway, so by making this your chief focus you will be prepared for future Google shifts. I plan on exploring these and other ideas to a much deeper degree so that people can walk away with a firm idea about how they can create a strong, lasting content strategy.
BE: What advice can you give share attendees in order for them to make the most out of their Share15 experience?
EE: Pick out the people you really want to hear speak (pick me, pick me!) and make a point of putting aside the time in your calendar to see their presentations. Then, take advantage of networking opportunities to meet some new people and perhaps forge some new partnerships.
About the industry
BE: How do you see the space evolving over the next year - what should marketers look out for?
EE: Google will continue pushing towards building the Star Trek computer. That means they will expand their computing capacity, continue to experiment with more rich-answer boxes and continue to add more structured databases of information. You will see more progress on this during the coming year. You will also see more action against various types of spam as well. Perhaps more doorway updates, a Panda or Penguin update, etc. I'd also expect that the mobile update will see a major revision before the year's end.
BE: How are you aligning your content and search optimization efforts?
EE:The search world and the role of the web is now highly integrated. Content on your site plays a direct role in bringing links to your site and establishing your overall authority. Content measurement is also the primary driver of growth for our business and we take it extremely seriously. Measurement allows you to gauge the success of your efforts and helps you fine tune your campaigns so that you can see continuous results over time. At the same time, one of the biggest challengers for marketers is finding a way to stay above the noise. The sheer amount of content being produced now means that for your content to attract attention it has to be meaningful and it has to be helpful.
Generic, uninspired content is not going to cut it any more. You need to choose your channels wisely and pick the ones where a large percentage of your target audience spends time- for both your paid and owned strategies. Creating differentiated content and distributing it through the right channels will help you get the most earned media results.
About BrightEdge
BE: How do you work with BrightEdge?
EE: We get fantastic competitive analysis data from BrightEdge. We use this valuable insight on our client's behalf to help them see results from their content campaigns. Our clients use the BE platforms to collect key data points, such as Share of Voice measurement, to perform Content Optimization and much more. We use the data to tune the digital marketing strategies we put in place for our clients.
The fun stuff
Did you know that Eric was the 1984 World Champion in Foosball? It was in an event known as Goale War. He also won the US National Championship in 1985. Foosball at Share15 for a beer anyone? Anyone? Eric promises to deliver an engaging and informative presentation at Share15 this September.
We look forward to speaking more with him about the industry and the future of digital marketing in just a few weeks.
If you have not signed up yet to participate in this exciting conference, there is just a short time left to take advantage of the Early Bird Special! Early Bird pricing ends July 31.
Share15 Details September 21-23 Westin St. Francis San Francisco, CA We hope to see you there!