On the heels of our selection to the OnMedia 100 Top Private Companies, we have even more exciting news to share today. For the last three years, BrightEdge focused on innovation. We were the first enterprise SEO platform to make SEO as easy as PPC, the first to tie SEO to ROI and the first to integrate with Web Analytics. Today we become the first SEO platform to take SEO global. For the first time, marketers for global companies can leverage a single technology platform that cuts through the clutter of the web, finds new opportunities to drive revenue and traffic, and makes a truly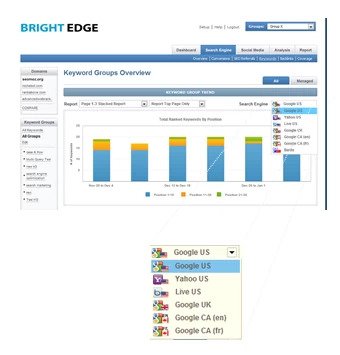 measurable, actionable contribution from SEO to their marketing mix. BrightEdge's unique capabilities and innovations are now available on a global scale, not just inside the US. Marketers now have a single cloud-based platform to manage SEO and drive ROI from organic search traffic across the world. No other SEO platform can match this functionality. Here are some of the key benefits that our users will see:
The only global reporting suite for SEO: One of our key innovations is the ability to provide instant, always-updated SEO reports and dashboards that are used from the CMO down to the SEO manager. We extended these dashboards so that everyone across global companies can now immediately understand the ROI of their SEO efforts in their country or countries. The CMO can get an aggregated global view for all countries to allow fine-tuning of their SEO budget allocation by region.
100% data integrity for the whole world: Our customers rely on us to give them the most accurate data about SEO ROI - data that they can defend inside their company when they are justifying their work or asking for funding. So we took our same capabilities that made us the de-facto leader for SEO data quality, integrity, accuracy in the US and deployed them internationally.
All of our data is captured "in country" so that it is tied to what searchers see locally on that country's search engines. For example, if we are reporting on Google in the UK, we call the search engine from inside the UK, not from the US. By contrast, SEO tools that call search engines from your own computer or a fixed US location will give a distorted view of the results.
Enabling of global alignment on common goals and strategies: Overlap and miscommunication can plague international SEO teams. One common issue for SEO managers, for example, is having multiple pages that compete on the same keyword and unintentionally steal "SEO authority" from each other. This problem happens often in just a single country, so imagine how hard it is to manage across multiple countries and teams!
We are also pleased to announce that Ming Lei, the Chief Architect and one of the four founders of Baidu, has joined our advisory board. He will provide guidance on optimizing our platform as we move forward into more international markets and bring more search engines into our system. We are really proud to be the SEO partner to the largest brands in the world. With our extended platform, it's never been simpler for international teams to execute on SEO, break through clutter, and efficiently, pro-actively build new high-value opportunities that drive ROI in ways that have never been available to them before.