Google Search Operators -- 8 Popular and Useful Commands
Understanding how websites interact with Google is the key to SEO. Google offers site owners a number of different search operator commands called operators that can help them monitor their websites and their SEO progress. These Google search operators and commands are simple to use and are just plugged directly into the standard search box.
Here are some useful SEO tasks that site owners can complete using a few simple Google search operators.
Check how many pages have been indexed
To use Google search operators to check for indexed pages type [site:yourdomain.com]. For example, at BrightEdge we use [site:BrightEdge.com].

Knowing how many pages Google has indexed is important for making sure that each page of the site is capable of showing up on SERPs and driving traffic to the website. If all of the pages have not been indexed it might indicate a number of different situations such as:
problems in the backend of a website, such as the robots.txt having User-agent: *Disallow:/
404 HTTP Status codes which means the page cannot be found
a very low pagerank - which will limit the number of pages Google will crawl
server problems that keep the spiders from reaching your content
With Google search operators, you can also dig deeper into your subdirectories by including the names of subdirectories or folders in the domain you search. For example, you can search for [site:http://www.brightedge.com/products/]. It can also be helpful to exclude particular subdirectories, such as [site:brightedge.com/products/ -inurl:www]. This can allow you to get a better idea of where the different articles are living within the website.
Find competitors with Google search operators
To find sites that are similar to your website, you can type [related:yourdomain.com]. REI would use [related:REI.com].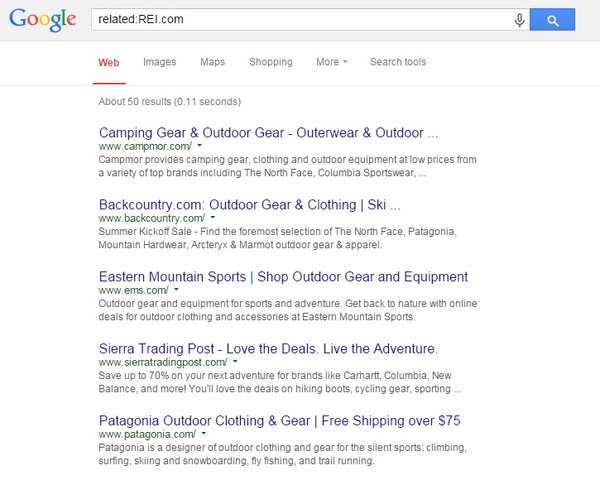 It can be very helpful for companies to analyze exactly what websites are commonly cited with them and who might be considered their competitors. This will allow you to compare how you and these competitors rank for certain keywords, where their sites might be stronger or weaker than yours, and where you need to improve to outrank the other sites.
Finding sites that link to yours with Google search operators
Use the command [link:yourdomain.com] to find websites that link back to your domain.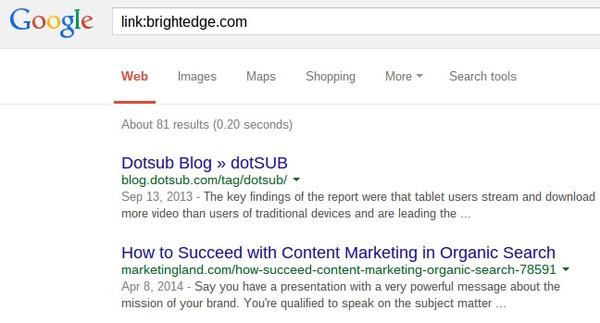 Backlinks are a known factor that add authority to websites and thereby influence SEO. While backlinks from quality websites can be excellent for SEO, it is possible for backlinks from poor websites to hurt your site's reputation. Although Google assures site owners that it would be extremely difficult for competitors to hurt another's webpage through spammy links, few people want to take that chance. If you find that spammy pages are linking to your website you can easily disavow the links.
Check for duplicate content with Google search operators
Use the Site:yourdomain.com to find all the indexed pages on your website. Then scroll to the last page on the list and look to see if Google has placed their duplicate content warning at the end:
In order to show you the most relevant results, we have omitted some entries very similar to the XXX already displayed. If you like, you can repeat the search with the omitted results included.
If this warning appears, it means that Google has detected some duplicate content within your site. Click the link to pull up the duplicate pages and begin to look through them to identify where the problems lie.
You can also run a search for suspected duplicate pages specifically by typing in, [site:yourdomain.com allintitle:keyword phrase] or [site:yourdomain.com allintitle:keyword * phrase]. In the second example, the * denotes an unknown word, allowing Google to search for the keyword phrase in any form that it might appear in the title.
Many websites with a duplicate problem will discover that they have had both www and non-www pages being indexed, or pages appearing in multiple subdomains.
Duplicate content can disrupt SEO rankings and make it harder to track the success of a website. When there are two pages that display the same content, the search engine has to decide which page is more relevant. This will hurt the page's ranking.
Find pages most relevant to a keyword with Google search operators
To find the pages most relevant to a specific keyword, type [site:yourdomain.com keyword or phrase]. This will bring up the websites that are most relevant to a particular keyword phrase for which you would like to rank.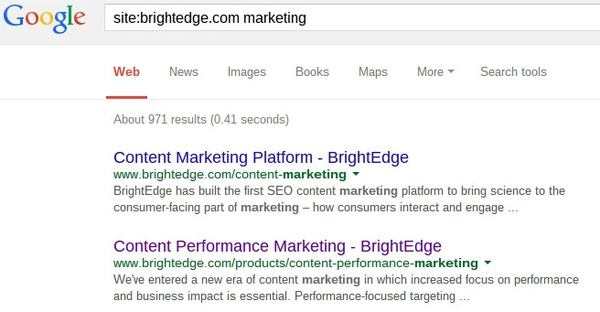 Armed with this information, you can adjust your marketing and SEO strategies to account for keyword relevance. It can be used in situations such as:
If you are trying to rank higher for specific keywords, you know which pages will have the best chance
If you are organizing content for specific buyer personas, you can sort through the pieces you have written related to different keywords that persona would find relevant
If you are running a paid advertising campaign for a specific keyword, you know which pages on your site will be most relevant to the people who click on the ad.
As powerful as Google search operators can be, BrightEdge takes this analysis to the next level. While Site: will show you your pages indexed that day, BrightEdge visualizes this data in the Coverage Report, providing historical indexation insight into both your website and your competitors.
BrightEdge also goes beyond simply showing your indexed pages with Data Cube. Simply enter your domain, sub-domain or directory into Data Cube, and you will see all the pages that are ranking, along with the keywords they rank for and their estimated traffic (Data Cube Score). This analysis works just as well for competitors and can even provide rapid gap analysis against any two websites.
BrightEdge also provides a far more robust view into your links than Link: or Allinanchor: can provide. Within Recommendations, you will find page level link data, including number of back links, Domain and Page authority and more, all compared against same metrics from the top 10 competitors for any particular keyword.
BrightEdge SOV also provides more insight than related: by showing you the top competitors for any particular set of keywords, along with the keywords they rank for, the on page elements and industry standard SOV for the entire competitive landscape.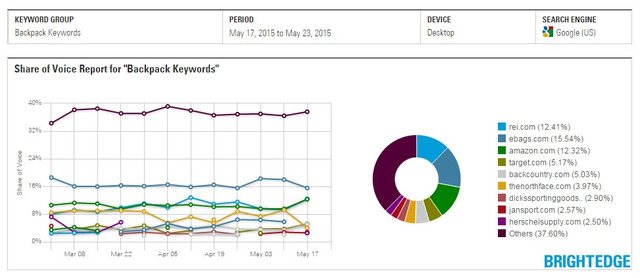 Other helpful commands
Google mentions a few other commands that you might find useful as well. To see what a website looked like the last time Google indexed a site use [cache:yourdomain.com]. To see the information that Google has stored about a website, such as similar pages, pages that link to a site, and cached versions of the site use [info:yourdomain.com]. To find pages that use one of several words use OR as in [site:yourdomain.com keyword 1 OR keyword 2]
Google search operators and site commands can be valuable tools for monitoring SEO and content, but the BrightEdge platform can help you understand and visualize at a point in time and over time.