In a new, free-to-download, thought leadership paper published today, BrightEdge and SAP share their insights, best practices and experience. "The Three Essential Elements of Content Performance Marketing" supports marketers as they navigate the rapidly-evolving content marketing landscape.
The content battleground
Seventy-nine percent of marketing departments hold capital budget for marketing technologies, according to Gartner's CMO Spend Survey 2015. These technologies attempt to level the playing field as marketing departments vie for budget and prove content's worth. Today, marketers operate on a content battleground where they fight for their content to be heard above competitive noise. In order to win, marketers need to produce content that resonates with their audience, wins consumers' attention and converts. It is increasingly important for marketers to understand the performance of their content within the context of the broader marketplace. Marketers know they need a better approach for understanding the performance of their content. For example:
Campaigns need to be planned and funded based on the actual performance of content. Gone are the days of guesswork and basing campaign plans on first-party data alone. Historically marketers have been forced to rely on first-person data, which gives them an incomplete view of how their content is performing.
BrightEdge provides marketers with complete sets of data, so they can understand the complete landscape of competing content across the entire Internet. With this understanding of the content battleground, marketers can increase the effectiveness and business impact of their campaigns.
Ecommerce marketers need to understand how content performs as it relates to the factors that drive conversions for ecommerce. Offers, calls to action and promotions are great examples here.
Unfortunately, most marketing teams don't have the resources, technology or know-how to efficiently and accurately measure and analyze the sheer volume of data that exists around their content or competitors'.
Where content marketers are getting it wrong
Marketers spent over $135 billion creating new digital marketing content in 2014. However, this content has limited value unless it is actually found by users, optimized to achieve maximum impact and measured to assess business results. This is the challenge many brands now face — a challenge to find the content marketing sweet spot that enables them to understand demand, optimize content and measure results. Brands recognize that connecting content efforts to ROI is essential to success. In fact, 78 percent of those surveyed for the most recent BrightEdge Search Marketer report state it's either "more important" or "much more important" to connect content efforts to ROI.

SAP, BrightEdge and the content performance marketing solution
SAP is one brand that has succeeded when it comes to establishing a robust and impactful content program that prioritizes data-driven optimization. In this paper, SAP shares experience from the field and provides best practices on how to develop content that delivers performance.
"We are constantly creating and refining our content," says Jung Suh, Vice President of Digital Marketing at SAP. "With the right tools and processes, this is more exciting than daunting. We can see where our content is falling short, identify gaps, and zero in on emerging opportunities. Content performance measurement is absolutely key. Otherwise, how would we know if our money is well spent?"
As the market leader in content marketing innovation, BrightEdge understands the fundamental flaws in existing marketing technology. This paper provides unique insight into the evolution of the industry, the competitive landscape and market demand for a new approach to drive content marketing into the future.
The three essential elements of content performance marketing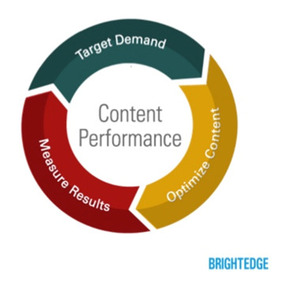 In this thought leadership paper, BrightEdge and SAP highlight some of the key content marketing challenges that brands and marketers face while sharing insights, tips and a simple three-part process to guarantee future content performance marketing success and investment. Technology and its corresponding data-driven insights are the keys that unlock Content Performance Marketing's potential. Demonstrating content and performance in an organization requires a well-defined, continuous-loop strategy containing three key elements:
Targeting Demand
Optimizing Content
Measuring Results
Download your free copy today and learn how to win on the content marketing battleground!